Whether your goal is to visit a large metropolis like Beijing or a secluded island like Hainan Island, we have selected a wide range of luxury hotels in China to help you choose your next accommodation abroad.China's tourism flourished in 2019 – over 415 million tourists were detected exploring this ancient country, and the number is expected to rise in the following years. Regardless of when you're planning your next visit, we hope you find this article helpful and informative.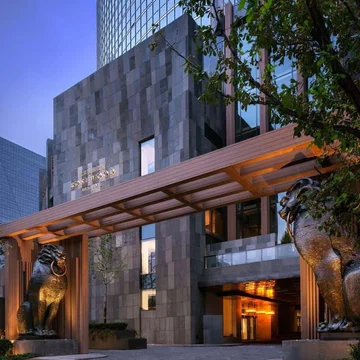 Rosewood Beijing
The Rosewood Hotel chain is known for its elegance and attention to detail regarding aesthetics. The central location of Rosewood Beijing will allow you to explore all main tourist attractions, like the Forbidden City and Tiananmen Square, which are a half an hour drive away from the property.
Check Availability
Rosewood Beijing incorporates pieces of local culture and contemporary artwork that enables guests to learn more about the city they're visiting. Chinese fiction books are present in each room and suite, while a generous minibar with every spirit you can imagine, and Lorenzo Villoresi amenities are also available. The accommodation's style is a blend of classic furnishings and modern touches, with a beige and white color scheme.
This hotel brand's notable facilities extend to Rosewood Beijing; from sizable and illuminated indoor swimming pools to a world-class on-site spa named Sense, the hotel's welcoming staff is dedicated to meeting all your demands.
Dining out at one of Rosewood Beijing's restaurants is a memorable and pleasant experience. Country Kitchen offers Northern Chinese specialities, including their famous hand-pulled Chinese noodles and dumplings. An abundant breakfast buffet is available for guests. For a thrilling night out with stunning city views and tasty cocktails, opt for Mei Bar.
The price for a standard room starts at $300 per night.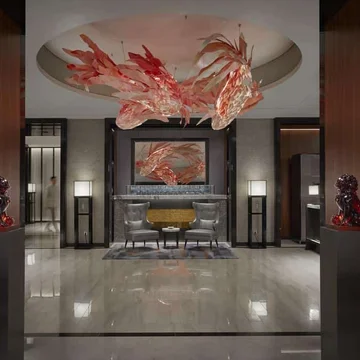 Mandarin Oriental Wangfujing
A five-star treasure situated near Wangfujing Avenue, Mandarin Oriental Wangfujing is one of the most visited luxury hotels in China. The location allows its guests to reach the main shopping district in China within a few minutes, which features luxury stores in the likes of Chanel, Louis Vuitton, Bulgari, and Buccellati. Similarly to Rosewood Beijing, the Forbidden City and Tiananmen Square are merely a short drive away, so you can easily tick off all items on your daily itinerary.
Check Availability
With a striking mix of modern opulence and Chinese flairs which Mandarin Oriental Hotels are recognized for, the common rooms at Mandarin Oriental Wangfujing ooze glamor and affluence. The palatial rooms and suites feature floor-to-ceiling windows that grant its guests a breathtaking view of the Beijing skyline, while the wooden and commodious king-sized beds guarantee a good night's rest. The bathrooms are as chic as it gets, with bowl bathtubs, marble designs, and complimentary Diptyque amenities.
A fitness center and a spa with an extensive list of treatments and massages are a few of the facilities available at Mandarin Oriental Wangfujing. If you want to go on a sensory adventure, The Mandarin Bar and Grill guarantee a culinary pleasure unlike any other, courtesy of their impeccable menu selection featuring amazing views of the Forbidden City. Café Zi offers a more casual dining option, perfect for a quick drink.
Prices start at $450 per night.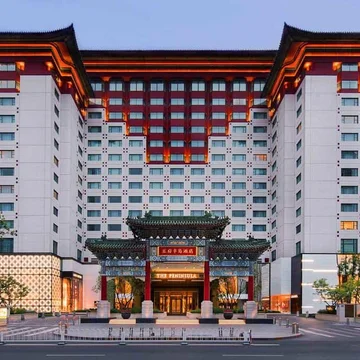 The Peninsula Beijing
Peninsula Hotels hardly needs an introduction. With a convenient location in central Beijing, The Peninsula Beijing, the first luxury hotel in China, is close to many local attractions, such as Wangfujing Street – the main shopping street in Beijing, St. Joseph's Cathedral, the Temple of Heaven, and the Forbidden City. Traffic can get hectic in Beijing, so the hotel offers complimentary bikes for their guests to freely explore the city.
Check Availability
Following a majestic entrance, the lobby at The Peninsula Beijing will charm you with its grand staircase and a spacious reception area. Aesthetes will undoubtedly appreciate the exhibition featuring spectacular paintings, photography, and sculpture displays. The hotel's elegant style is present in all the rooms and suites which come with separate living room areas and dressing rooms.
The celebrated Peninsula Spa will give you celebrity treatment and the ultimate rejuvenating package. Conveniently, there is a luxury shopping arcade on the property, including Dior, Prada, Gucci, and Gaultier stores.
Various dining options will be available during your stay. Visit Michelin-starred Jing Restaurant and Bar for contemporary French cuisine with an Asian flair, and the magnificent Huang Ting for scrumptious Cantonese cuisine and premium Chinese tea.
Price-wise, standard rooms start at $270.