At a glance, one might assume that all the best luxury hotels in the Czech Republic seem to be situated in Prague, but one would certainly be wrong. Now, we're not saying that Prague is without its very wide array of luxurious accommodation options – choosing the best ones was certainly a tall task – but, giving you Prague and calling it a day would be us doing a bad job.
Other than the tried-and-true names in the capital, Czechia certainly has some respectable boutique chateaus, as well as hidden gems in its less-frequented cities, so you would be remiss not to visit them if you have the chance.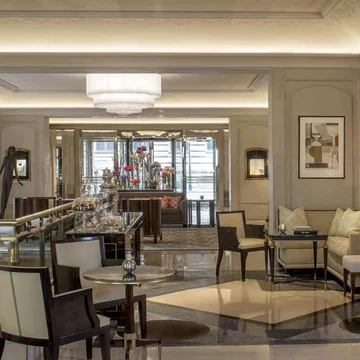 Four Seasons Hotel Prague
When it comes to hotel locations in history-rich cities, Four Seasons Prague has it best. It simply doesn't get better than this; the Vltava river, Charles Bridge, Old Town Square, Prague Castle, and even the Rudolfinum, the home of the Czech Philharmonic, are all notable sights within walking distance of the hotel.
Check Availability
The remodeled interior, superbly executed by Pierre-Yves Rochon, a renowned designer, gives the Prague iteration of Four Seasons a uniquely modern feel. Although, the characteristic marble floors and rich wooden decorations, along with a vast, lavish lobby, still remain and retain the established hotel brand's luxurious vibe.
The 138 rooms and 19 suites are all sizable and feature in-room amenities such as minibars, safes, refrigerators, flat-screen TVs, telephones, and complimentary toiletries & bathrobes. The hotel also has its own spa center with a plethora of treatments and massages, providing uttermost relaxation. Four Seasons Prague is known for frequently hosting classical concerts on the fifth-floor terrace, so it's never a dull moment even if you choose to stay inside and soak in the opulence.
Even though there's not much variety when it comes to dining options, the Cotto Crudo Italian restaurant more than makes up for it with quality. Expect to experience authentic Italian and Mediterranean culinary delights such as salmon with miso vinaigrette or homemade pasta. The Gallery is the place to be for drinks and snacks, located in the new bar & lounge area, serving all sorts of alcoholic drinks as well as tea and coffee throughout the day.
Room rates for two start at about $350 on average, while the suites are upward of $1200 per night.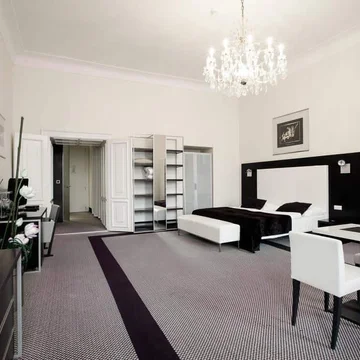 Old Town Square Hotel
As its name would suggest, the Old Town Square Hotel sports a prime location opposite the storied astronomical clock – the oldest operational clock of its kind in the world. Other nearby attractions include the Wenceslas Square, which is a 10-minute walk away, and the Parizska street, brimming with upscale shopping spots, making it the perfect base for exploration of the scenic city.
Check Availability
Even though the original building dates back to the 16th century, the exterior is unimposing and the hotel itself certainly doesn't stand out from the surrounding architecture, which is what we've learned to expect in lists like these. In terms of style, the interior is not particularly awe-inspiring either, being furnished in tones of black and white, giving off a rather minimalistic vibe. If, for example, you're someone who wants their luxury accommodation options to look the part, you might as well skip to the next one since Old Town Square Hotel's selling point is its sense of intimacy while having an ideal location.
The hotel's 10 exclusive rooms are all spacious and most of them feature views of the square. They feature amenities such as flat-screen TVs and safes, while the bathrooms are vast and include complimentary Philippe Starck toiletries. Smoking is banned throughout the hotel, while the attentive staff offers 24/7 availability at the front desk as well as dry cleaning and laundry services. Although there is no bespoke spa/wellness center, guests can book massages and treatments at the sister hotel Emblem, a four-minute walk away.
There's no in-house restaurant or dining room to speak of, but the separate ground-floor establishment offers 10% discounts to guests of the hotel. Expect to find a lounge-bar-style menu, with exquisite burgers and fresh salads. Alternatively, as we already mentioned, there's a multitude of options to choose from in the close vicinity since Old Town Square Hotel is truly at the heart of Prague.
Double room rates start at $195 in low season.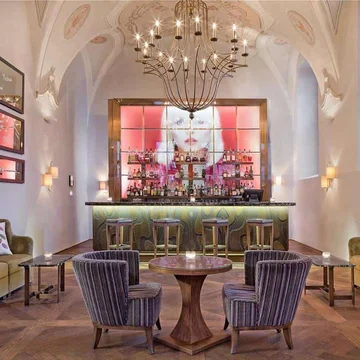 Augustine
Augustine is the first hotel on our list that doesn't boast a front-and-center position amidst Prague's numerous sights. But, that doesn't mean that it's off the beaten path – quite the contrary; despite being in the district of Mala Strana, the Augustine hotel is mere minutes away by car from everywhere you'd possibly want to visit. What's more, it has the closest proximity to Prague Castle of all the other hotels.
Check Availability
The hotel complex is