15 Luxury Hotels in Fiji | Idyllic 5-Star Island Resorts
Nestled in the South Pacific Ocean, Fiji is a tropical paradise renowned for its abundance of natural beauty. The archipelago comprises more than 300 islands, and around 100 of them are inhabited. Here you'll find pristine white sandy beaches, captivating coral reefs, and cascading waterfalls.
Staying at luxury hotels in Fiji offers a tranquil environment to unwind. Amongst the secluded shores and lush greenery, you'll come across several sumptuous accommodations, from luxury bungalows to ocean-view suites.
Whether you're seeking a romantic retreat or a thrilling solo escape, there are plenty of luxury island resorts for a blissful adventure. In this guide, we've highlighted the best hotels in Fiji for a 5-star island vacation.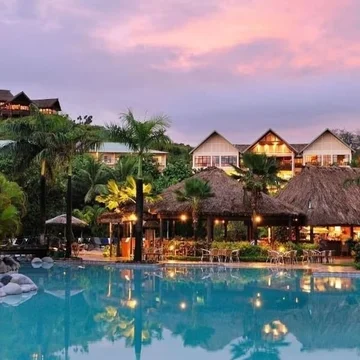 Outrigger Fiji Beach Resort
If you're looking for 5-star accommodation with glistening waters right on your doorstep, the Outrigger Fiji Beach Resort is perfect. It's set on 40-acres of breathtaking land along the Coral Coast in Viti Levu. Amongst the lush gardens, you'll come across traditional bure bungalows as well as deluxe suites with spectacular views.
Check Availability
The spacious rooms feature modern and traditional Fijian style with several accommodation types, from beachfront bungalows to plantation family bures. With the warm hospitality and kid-friendly activities, it is an ideal spot for those seeking a family resort vacation.
Outrigger offers exhilarating kids club experiences, a lagoon pool, and exceptional childcare services. The resort also features an adults-only swim-up pool bar and a private beach where you can relax with a cocktail in hand or enjoy water sports.
Guests have access to kayaking and snorkeling equipment free of charge. After diving in the dazzling sea, indulge in a delicious meal at one of the seven on-site restaurants.
When it comes to dining, you'll certainly be spoilt for choice. At the Kalo Kalo Bar, you can sip on champagne with stunning sea views, while the Vale Ni Kana offers mouth-watering family feasts.
The award-winning Bebe Spa has several treatment rooms and offers rejuvenating services such as body wraps, facials, and Ayurvedic therapies. For a culturally rich experience, you can attend a traditional kava ceremony, Meke performance, or a fire walking demonstration. There is truly something for everyone to enjoy at this luxurious destination.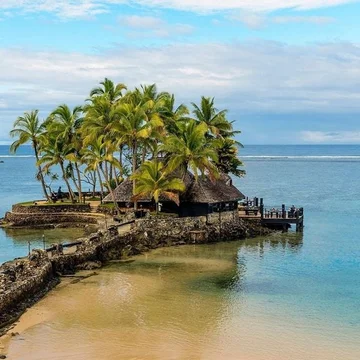 Warwick Fiji
The Warwick Fiji is another gem situated on the Viti Levu Island. This 5-star hotel in Fiji is positioned on a scenic beach and offers panoramic garden and mountain views. It features 248 luxurious rooms, each with a private balcony.
Check Availability
The elegant rooms are equipped with various amenities such as flat-screen satellite televisions, minibars, and air-conditioning. However, the Warwick Deluxe Rooms offer a little extra luxury with additional perks, including exclusive access to the Executive Warwick Lounge. At the luxurious lounge, you can enjoy complimentary afternoon tea and cocktails.
On the private beach, you can take part in several water activities such as snorkeling, kayaking, windsurfing, and fishing. And all non-motorized equipment is available for hire at no additional cost.
There is also a fitness center, squash courts, tennis courts, and two outdoor pools. For a tranquil experience, you'll find a relaxing hot tub as well as a spa that overlooks the peaceful lagoon.
For a tropical dining experience, there are five restaurants and six bars to have a tasty meal while appreciating the stunning views. If you're looking for a Japanese dish with a twist, check out the Sazanami restaurant to get your taste buds tingling. The Wicked Walu is an excellent option for couples to dine in a romantic atmosphere beside the ocean.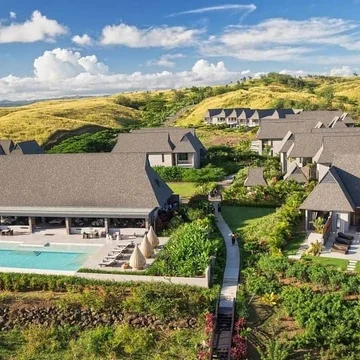 This 5-star hotel is on one of the best white-sand beaches in Fiji, Natadola Beach. Here you'll find 226 spacious rooms and modern suites. In addition to the magnificent landscape views, you'll be in awe of the stunning resort designs that are inspired by both contemporary and traditional Fijian village influences.
There is an array of dining options with three restaurants and two bars on site. And once you've satisfied your belly, there is plenty to do for a thrilling adventure. The resort features a tranquil spa, three swimming pools, a dive pool, and an 18-hole golf course.
If you're traveling with little ones, there is a kids club with various entertaining and educational activities at this family-friendly spot. With a stunning wedding chapel and stylish conference room, it is also an excellent pick for events.