The most luxurious hotels in France are just like the french art de Vivre – sophisticated and elegant to the very end. Around 80 million tourists visit France every year to get a taste of this rich culture that promises leisure, extravagance, and beauty. Whether you're on the quest for a spacious suite facing the Mediterranean Sea in Cannes, a glamorous hotel in Paris, or a villa in the mesmerizing Bordeaux, we have you covered.
In this article, you'll read about the 15 most luxurious and glamorous hotels in France that immediately disorient guests and speed their surrender to pleasure and leisure.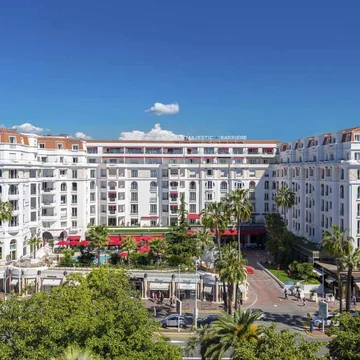 Hôtel Barrière Le Majestic
Located on the alluring Boulevard de la Croisette, Hotel Barriere Le Majestic boasts a prime location in France's most notorious town. The hotel is opposite Palais des Festivals which hosts the annual Cannes Film Festival and, during this period, the hotel is reserved only for Hollywood stars.
Check Availability
Monica Belluci, Robert de Niro, Paolo Sorrentino, Jane Fonda, and Matthew McConaughey are just some of the stars who have stayed in Le Majestic's suites. At the spacious lobby, you'll find a huge photography selection of Hollywood stars and celebrities that have visited the hotel.
Le Majestic oozes elegance and sophistication with every detail – Roman statues, velvet sofas, rare pieces of furniture, and Swiss bathrooms. All rooms feature amenities such as flat TVs, minibars, air-conditioning, Nespresso machines, bathrobes, irons, and Wi-fi.
One striking feature of Le Majestic is the suite designed by Christian Dior. It has a 180° terrace overlooking the Mediterranean, a Louis XVI dining room, home cinema system, and a marble bathroom, which makes this suite arguably one of the most luxurious accommodations in Cannes.
Guests' favorite spot at Le Majestic's is the infinity pool which is surrounded by elegant palm trees and bright red parasols. If you want to spend your afternoon on a sandy beach, you can hit the hotel's private beach – La Plage. Facing the Lerins Islands, La Plage is the ultimate spot to unwind, relax, and indulge in some mesmerizing views. Here, you can also engage in a number of fun sports activities including paddleboarding, fly-fishing, and parasailing.
The hotel's lavish spa is the perfect spot to bring equilibrium to your mind, body, and spirit. At Spa Diane Barrière, guests can enjoy a wide area of treatments including massages, marina facials, and multi-sensory stimulation in a relaxing and stylish setting.
A double room at Hotel Barriere Le Majestic starts at $235 in low season and can go up to $1400 in high season.
Hôtel Barrière Le Majestic Review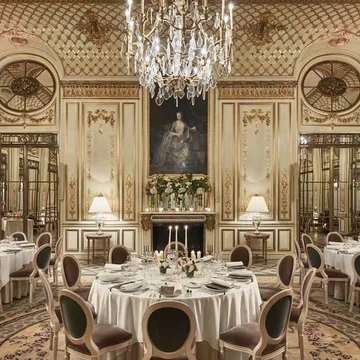 Le Meurice
Overlooking the Tuileries Garden, Le Meurice invites guests to experience French elegance and the art of living in an extravagant setting. Stepping into Le Meurice will make you feel as if you've gone back in time and attended an elegant dinner at the Versaille. Le Meurice promises first-class treatment and splendid service to its guests.
Check Availability
Le Meurice is situated in an affluent 18-century property that boasts luxurious decor and old-world glamour. The hotel's one-of-a-kind style has been widely renowned and this is the first hotel to be awarded an official "Palace" Status. Known as the "Hotel des Rois"(Hotel of Kings), Le Meurice is bound to make an impression with its gloss marble floors, Doric columns, numerous crystal chandeliers, and extravagant pieces of furniture. The rooms are spacious and bright, equipped with a number of over-the-top amenities including a king-size bed, flat TV screen, minibars, air-conditioning, and Italian marble bathrooms.
From unique artworks, damask wallpapers, floor-to-ceiling windows, and decadent furnishings, to rare pieces of furniture that'll impress you, the guest rooms at Le Meurice are exactly as you'd imagine an 18-century French property would look like.
Le Meurice's Michelin-starred Alain Ducasse is the best in the business. Guests get to enjoy delicate meals prepared by the restaurant's executive chef Amaury Bouhours. The restaurant boasts rich decor with antique mirrors, crystal chandeliers, and iconic Eero Saarinen Tulip chairs. Restaurant Le Dal is another dining option at the hotel, providing French upscale cuisine in a romantic setting.
The Superior Room at Le Meurice starts at $1200 while the Junior Suite costs $1,850 per night.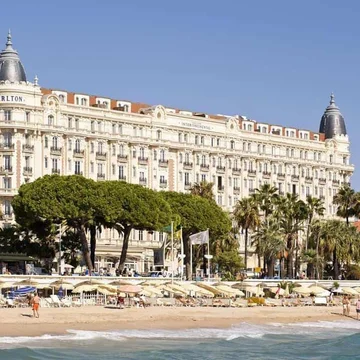 InterContinental Carlton Cannes
Situated on the historic Boulevard de la Croisette, InterContinental Carlton is well-known for providing guests with first-class treatment and outstanding service. The hotel is in close proximity to the city's most prominent landmarks including Palais des Festivals and La Malmaison and is ideal for those who want to explore the city on foot.
Check Availability
Elegant, authentic, and sophisticated, InterContinental has been dazzling guests with its extravagant decor since its opening in 1911. Expect spacious and cozy rooms equipped with amenities such as a king-size bed, marble bathrooms, flat TV screen, writing desk, and luxurious bedding.
For an elevated experience, book some of the opulent suites named after the Hollywood stars that have stayed at the hotel. With that being said, Inter