With tropical style villas, azure blue lagoons, and white beaches, the luxury hotels in French Polynesia are certainly setting the stage for an unforgettable tropical getaway. Laze your day away on a comfortable hammock, relish in authentic Polynesian dishes, or soak in the impressive views over Mount Otemanu; these hotels are all about indulgence and decadence.
For the ultimate in luxury and tropical pampering, check out our list of the 15 most luxurious hotels in French Polynesia.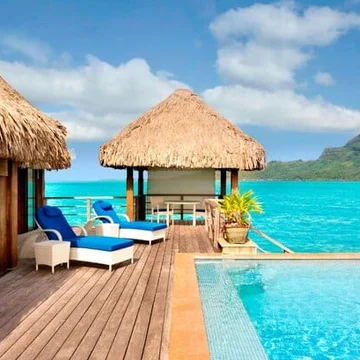 Bora Bora, French Polynesia
The St. Regis Bora Bora Resort
St.Regis Bora Bora is considered to be one of the top resorts in Bora Bora and has been voted multiple times as one of the best hotels in French Polynesia. The hotel's villas spread across three islands, surrounded by the open ocean and a large lagoon. The area is peaceful and calm; making it the ideal spot for couples and honeymooners looking for intimacy by turquoise blue waters.
Check Availability
Guests can choose from 99 suites and 77 over-water villas, all appointed with top-notch amenities. The villas ooze tropical elegance with palm-thatched wooden floors and outdoor open desks. Popular among discerning travelers are the Overwater Royal Otemanu Villa and the Overwater Premium Villa which feature open-layout designed with exotic noble woods, one spacious bedroom, an open-air living room, bathroom, and a relaxing whirlpool. As you might expect, the views over Mount Otemanu are awe-inspiring.
All units are appointed with top-notch amenities such as a Bose sound system, flat TV screen, in-room safe, minibar, and free Wi-fi. In-room massages and in-room childcare is available upon request.
Additionally, the resort features a myriad of facilities including a 13,000-square-foot Iridium Spa, a kids club, 24-hour gym center, and "lagoonarium" for snorkeling with tropical fish. The area is ideal for a number of water sports such as sailing, kayaking, and scuba diving – at St.Regis Bora Bora fun is guaranteed. With four restaurants serving Polynesian dishes and Western classics, 24-hour room service, and two lively bars that specialize in craft cocktails and small bites, St. Regis Bora Bora offers impressive dining experiences.
Suites start at $820.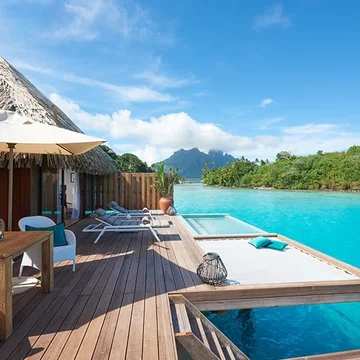 Bora Bora, French Polynesia
Conrad Bora Bora Nui
Conrad Bora Bora Nui is situated on the private island of Motu To'opua which boasts one of the largest stretches of white sand beach in Bora Bora. This luxurious resort immediately makes an impression with its impressive thatched-roof overwater villas perched on wooden piers, awe-inspiring views over the lagoon, peaceful ambiance, and numerous facilities.
Check Availability
You'll probably want to stay forever in the hotel's Robinson Crouse-style villas. They blend perfectly with the natural surroundings, yet on the inside, they feature a sleek, contemporary design. Expect wooden walls, an ocean-inspired color palette, and open-layouts with cushioned sun loungers. The four-poster beds feature a comfortable mattress and soft linens. The Presidential Suites spread across two floors and have two master bedrooms, a private pool, sauna, and a jacuzzi. Additionally, most villas are appointed with open decks and infinity pools.
The hilltop spa is the main draw here with numerous treatment rooms, a relaxation zone, a sauna, and a steam room. The menu features a full range of massages and beauty services for both singles and couples. It's worth noting that Hina Spa was awarded "Favorite Romantic Spa" by American Spa's 2018 Professional's Choice Awards.
The staff team is friendly and multilingual. Guests are spoiled with chocolates, fresh drinks, and flower arrangements. Additionally, the resort offers a stunning range of outdoor activities including excursions to the nearby islands and snorkeling with stingrays.
Overwater villas start at $510.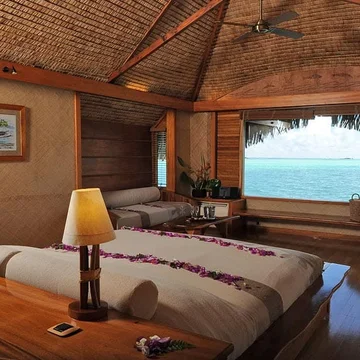 Le Taha'a Island Resort & Spa
Le Taha'a Island Resort & Spa is a luxury resort situated on the car-free Motu Tautau Island. It takes 40 minutes with a speedboat to reach the island from the airport. This jungle retreat boasts 55 suites and 48 water bungalows, each surrounded by lush tropical vegetation and the blue lagoon.
Check Availability
Guests can choose between five types of units: Pool Beach Villas, Taha'a Overwater Suites, Sunset Overwater Suites, Royal Pool Beach Villa, and Bora Bora Overwater Suite. The overwater bungalows feature private open decks and direct access to the lagoon, while the beach villas are ideal for a family with two bedrooms, en-suite bathrooms, two outside bathtubs, and a plunge pool. With its stunning views across the chain of islets, the Bora Bora Suite is without a doubt guests' favorite. However, as you might expect, the views are sensational from all units.
Bathrooms are comfortab