Historic cities, ancient cathedrals, fun food festivals, and picturesque villages – these are only a few things that make Germany one of the most visited countries in Europe. With millions of visitors per year, it's no surprise there's a multitude of luxury hotels in Germany to choose from.
Our list will give you an overview of the best luxury hotels in the country, ranging from Berlin to the Bavarian Alps. Regardless of what kind of holiday preferences you have, we truly hope that you find this luxury hotel guide useful and informative for your next vacation in Germany.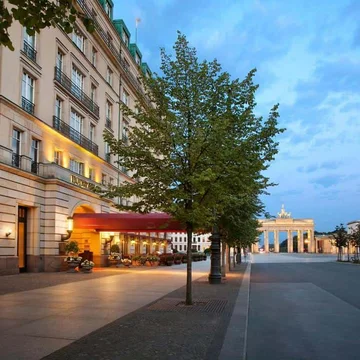 Hotel Adlon Kempinski Berlin
Hotel Adlon Kempinski Berlin is where opulence and glamour meet unsurpassable hospitality. With such an impressive list of celebrity guests like Barack Obama, Brad Pitt, Angelina Jolie, and Charlie Chaplin, it's no wonder that the hotel is considered one of the best luxury hotels in Germany.
Check Availability
The location of Hotel Adlon Kempinski Berlin is in central Berlin, near historic landmarks such as The Holocaust Memorial, Pariser Platz, Academy of Arts, and Checkpoint Charlie. It's a convenient location regardless of whether your priority while on holiday is visiting artistic centers, luxury shopping, or exploring popular tourist attractions.
After it was tragically bombed during the Second World War, the hotel was thoroughly renovated and restored. Its current style oozes old-school glamour; warm tones mixed with gold details are found both in the public rooms and the suites. The common areas have interesting architectural designs and are brimming with antique furnishings.
Many state-of-the-art facilities are included at Hotel Adlon Kempinski Berlin – a sizable indoor pool, a sauna, a 24-hour fitness center, and a luxury spa. The rooms include ligneous furnishings, gorgeous views of Pariser Platz and the Brandenburg Gate, and pristine, commodious bathrooms with large hot tubs and well-lit mirrors.
Three dining options are available at Hotel Adlon Kempinski Berlin: the Lobby Lounge & Bar, the two Michelin-starred Lorenz Adlon Esszimmer, and Sra Bua Bar. Serving royal afternoon tea, signature German dishes, and refreshing cocktails, your taste buds are bound to be satisfied regardless of your culinary preferences.
Prices for double rooms start at $300 a night.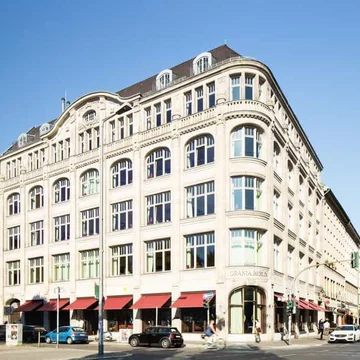 The Orania Berlin
With a distinctive atmosphere that reflects the aura of Berlin, the artistic and visually captivating Orania Berlin is situated in the lively Kreuzberg district, allowing you to access the cultural and historic epicenters of Berlin within a walking distance. Some of the most crowded museums like the Jewish Museum, Berlinische Galerie, and Pergamonmuseum are a 30-minute walk away from the hotel.
Check Availability
Luckily, Berlin offers some incredible sights if you choose to travel on foot. Many high-end luxury stores and charming local shops are in close proximity to the hotel, so shopping won't be a problem.
One distinctive characteristic of The Orania Berlin is that their rooms and suites are named after sizes in square meters, so be prepared to book rooms named Orania.21 or Orania.50.
The style is consistent with all the common rooms in the hotel – warm and golden tones make for an inviting and homely atmosphere, while the immense windows invite natural light that further emphasizes the charming tones of the rooms. The suites feature a lovely library with a wide selection of books, comfy sofas, and Iranian carpets.
Each accommodation option comes with a Nespresso machine, a generous minibar, ultra-plush beds with elephant-themed frames, and complimentary bathrobes and slippers.
Modern facilities such as a fitness center, a bar, and a large stage where German artists hold fun concerts are all part of The Orania Berlin. Experienced and dedicated, Michelin-starred Chef Philip Vogel helps prepare scrumptious meals at the on-site restaurant, where you can order from a vast menu of German and international cuisine, prepared with fresh and local ingredients. Guests get to enjoy their meals in an intimate and alluring atmosphere. Breakfast at The Orania Berlin includes a buffet of delicious international cuisine.
The price per night for a room starts at $190.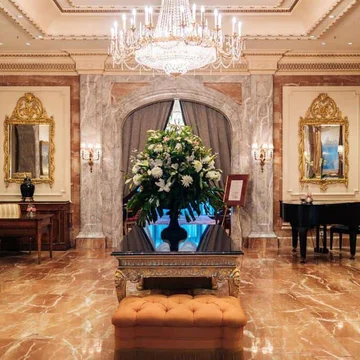 Regent Berlin
The ever so popular Regent Berlin is rightfully among the best luxury hotels in Germany. This five-star marvel is adjacent to the Gendarmenmarkt Square, neighboring the most historic attractions and buildings that are synonymous with Berlin.
Check Availability
Such an outstanding location makes it easy for guests to access attractions like Brandenburg Gate and Unter den Linden. Shopaholics will be happy to know that KaDeWe, one of the oldest luxury department stores in Germany, is merely a 15-minute drive away from the hotel.
The staff at Regent Berlin is very welcoming, friendly, and happy to assist with anything you might need, or answer any inquiries regarding the city or the hote