The land of Homer, the birthplace of democracy, and the cradle of Western Civilization – Greece is a country that attracts millions of tourists on a yearly basis. From its stunning islands to the historic capital, there are many sights to explore while traveling here, which is why choosing a single hotel to stay in isn't an easy task. We're here to help you with that mission, so we've compiled a list of the best luxury hotels in Greece.
We truly hope you find this list helpful and informative for your next Greece getaway, so let's get started with the reviews.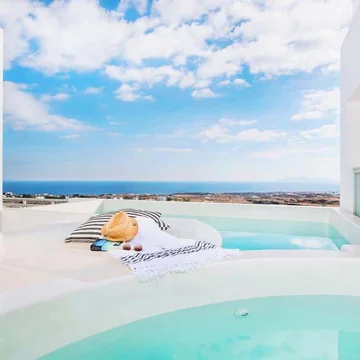 Astro Palace Hotel and Suites
The award-winning Astro Palace Hotel and Suites is among our best picks for luxury hotels in Greece. This lavish hotel is located just a short walk away from Fira – the most popular town in Santorini.
Check Availability
The hotel's grand star-spotted pool is among its top attractions, its beauty especially apparent during nighttime. There's a relaxing and soul-soothing spa where you can unwind and enjoy your favorite spa treatment, as well as a sauna to relax even further.
The suites at Astro Palace are the perfect blend of comfort and luxury. Guests can select from a variety of suites, some of which feature an outdoor Jacuzzi and a private pool, or both. The idyllic location of this hotel allows for some of the most spectacular sea views in Santorini. All rooms and suites are air-conditioned and come with a flat-screen TV, coffee and tea making facilities, a minibar, and a private balcony where you can enjoy the breathtaking views.
The food will also exceed your expectations. The restaurant at Astro Palace offers a fulfilling dining and wine tasting experience with a marvelous selection of both Mediterranean dishes and international comfort dishes.
The rooms at Astro Palace start at $200 a night.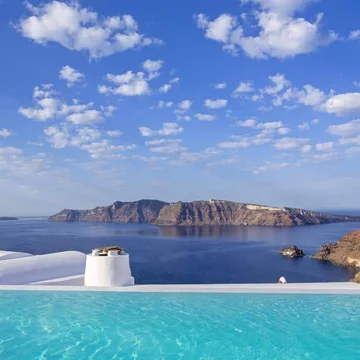 Katikies Hotel
Katikies Hotel sits on the rocky hills of the stunning city, giving its visitors the ultimate Santorini experience. Located in Oia, one of the most popular towns in Santorini, the hotel allows its guests to explore the neighboring local shops, restaurants, and bars easily.
Check Availability
That being said, you won't have to leave the hotel's premises to indulge in delicious meals. Katikies Hotel is home to a few fantastic restaurants. The Seltz Champagne Bar and Restaurant is ideal for a light snack or a chilled glass of bubbly. Mikrasia Restaurant's unique and intimate atmosphere is perfect for а date night, with amazing sea views and Anatolian-inspired cuisine. Selene Restaurant, with head chef Giorgos Hatzigiannakis, serves impeccable Modern Greek dishes.
The hotel has three infinity pools that overlook the Aegean Sea and one spa where you can book a relaxing treatment or a massage. The airy, all-white rooms at Katikies Hotel are in perfect harmony with the surroundings. Each room has a private terrace where you can take your breakfast in the morning to soak in the view of the serene sunrise, plus a minibar, a fridge, and a flat-screen TV. The suites come with a separate living and dining area.
The room rates at Katikies Hotel start at $300 a night.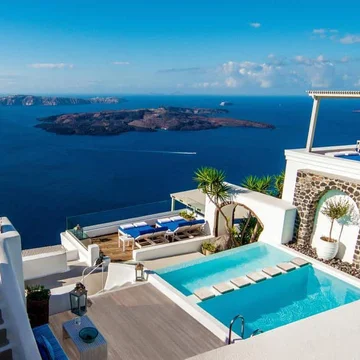 Iconic Santorini
Private Jacuzzis overlooking the endless sea and volcano, restaurants with flavorsome dishes served with panoramic views, and an incredible cave spa – Iconic Santorini has everything you will ever need for the Santorini getaway of your dreams.
Check Availability
The hotel is located in the tranquil and scenic village of Imerovigli, away from the tourists and noise. If you value your peace and quiet during your holidays, you will love this location. There are, however, plenty of lively bars and restaurants in the area, so you won't be completely removed from all the happenings.
Iconic Santorini has all the facilities that make for a great escape: a small yet well-equipped gym, a cave spa with lots of treatments and massages, a sizable infinity pool that seems to blend in with the background, and a restaurant that serves local food with traditional Greek flavors and an extensive wine list. Iconic Santorini offers a Greek continental breakfast served on the terrace for a spectacular start of the day.
The 19 cave suites at Iconic Santorini are spread over multiple stories and capture the Santorini spirit incredibly well. They feature large and comfortable beds, a flat-screen TV, and private balconies with views of the caldera. The mostly white color palette is matched with playful bright blue details that match the surroundings. Some suites even come with their own indoor and outdoor pools.
Prices at Iconic Santorini start at approximately $600 a night.