Kenya is one of the most visited Safari locations in East Africa, a country brimming with scenic landscapes, exotic wildlife, and beautiful national parks. To balance out the breathtaking but rough outdoors, we are reviewing fifteen of the best luxury hotels in Kenya that will make for an ideal addition to your next Safari adventure.
Whether you pick a fully remote location or a large and vibrant city like the capital Nairobi, an unforgettable stay is guaranteed. All the hotels featured on our list offer a wide array of outdoor and safari activities, perfect for those who like to stay active on holiday or want to experience the wonders of nature first-hand.
With that said, let's get started with our first pick.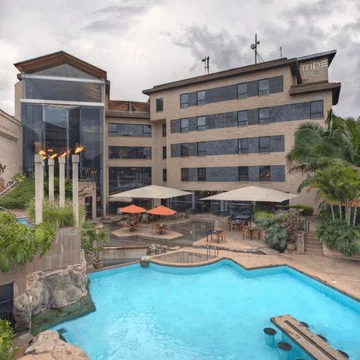 Tribe Hotel
Luxurious and artistic, Tribe Hotel infuses tribal elements in its design and architecture, giving its guests a unique opportunity to become acquainted with Kenyan culture first-hand. The hotel is situated in the Diplomatic District of Nairobi, approximating many local restaurants and shops.
Check Availability
The award-winning Kaya Spa, where you can book various luxurious African treatments, will provide you with some much-needed relaxation, especially if you're traveling for business. The well-equipped on-site gym is another amazing place to replenish your energy stores. Catch some sun rays at the tropical-style outdoor pool, while sipping on a refreshing cocktail. Jiko Restaurant is the main dining venue at Tribe Hotel, where guests can enjoy a seasonal menu brimming with delicious local and international flavors.
The rooms and suites have a warm color palette with deep red accents, making the accommodation homey and inviting. Furnished with a flat-screen TV, a working desk, and a rain shower, they provide all the prerequisites for a comfortable stay. The two-level Presidential Suite, overlooking the wetland, is the most opulent option at the hotel, with a spacious dining room, windows that allow panoramic views, and oversized couches.
The rates at Tribe Hotel start from $150 a night.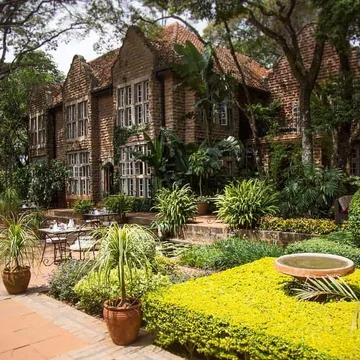 Giraffe Manor
Giraffe lovers unite! Giraffe Manor is one of the most diverting luxury hotels in Kenya, giving its guests the opportunity to make special friends during their holiday – Rothschild giraffes. It's adjacent to Nairobi's Giraffe Center, a short walk away from the David Sheldrick Elephant Orphanage, and is surrounded by an indigenous forest and stunning gardens.
Check Availability
While there are no on-site pools or fitness centers, the giraffe sighting at Giraffe Manor more than makes up for it. Expect to find them everywhere – from the windows at your guest room to the on-site restaurant. Nestled in the middle of the garden is a small spa, where you can book massages and treatments designed to melt away the stress.
Breakfast in the company of your long-necked companions and enjoy a wide range of international options. Dinner is served at a romantic drawing room, or, for those who prefer privacy, in a candle-lit orchid house. The cuisine is focused on Mediterranean dishes, with delicious pasta and wine.
The luxury safari lodges are designed in an eco-chic manner reminiscent of the 1930s, with local artwork, canopy beds, high wood-paneled ceilings, and carpeted with oriental rugs. The bathrooms are quite sizable, with signature Giraffe Manor toiletries and deep tubs.
The rates at Giraffe Manor start from around $400 a night.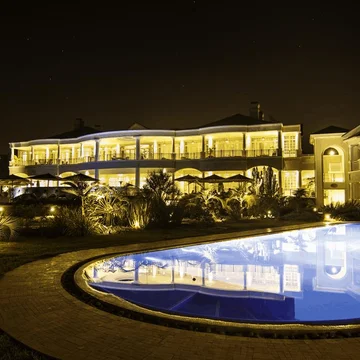 Hemingways Nairobi
As you might deduce from the name, this boutique hotel is named after the renowned writer Earnest Hemingway, who frequently visited the area during his Kenyan adventures. What's more, several of the suites overlook The Green Hills of Africa – one Hemingway's famous setting.
Check Availability
Hemingways Nairobi ticks off all the luxury facilities – a large outdoor pool with a lounging area, an on-site spa that combines French and traditional treatments to bring you relaxation and comfort, and a small gym. Breakfast at Hemingways Nairobi is a real treat – choose from a spectacular array of freshly baked pastries, fruit salads, Viennoiseries, and delicious coffee. At night, you can enjoy a drink or two at the bar; our recommendation is to try Hemingway's signature cocktails. An Orange Marmalade Margarita might not sound appealing to the ear, but rest assured its exotic ingredients and delightful presentation (the cocktail is served in a glass skull) are worth trying.
The 45 suites are named after popular people associated with Kenya and are equipped with a private balcony, canopy beds, a sitting area, and walk-in closets. Literature fanatics should definitely book the signature Hemingway Suite, for a wholesome and well-rounded experience.
The rates at Hemingways Nairobi start from $300 a night.