Wild nature, stunning beaches, and beautiful cities, Malaysia is on the bucket list of all adventurous spirits. Voyage to Kuala Lumpur and see one of the most iconic sights in the world, the Petronas Towers, or book a beach villa at Langkawi, an archipelago of over 99 islands in the Andaman Sea – whatever your plans are, Malaysia will catch you off guard with its rich offer.
In this article, we've reviewed the most luxurious hotels in Malaysia so you can choose your perfect spot and pack your bags immediately.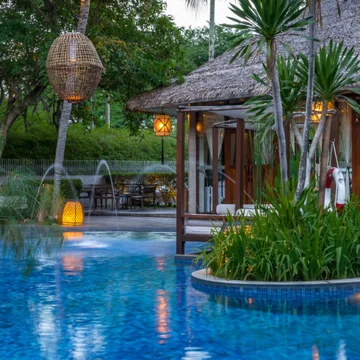 Villa Samadhi
Villa Samadhi is a luxury hotel nestled in a quiet area away from the hustle and bustle of the city. The hotel is still in close proximity to some notable landmarks, including the Petronas Twin Towers and Kuala Lumpur city center which are a 10-minute drive away. Numerous shopping and upscale dining options can be discovered at the Bukit Bintang shopping district which is a short drive away.
Check Availability
With its isolated location, comfortable accommodation, and stunning amenities, Villa Samadhi is a magnet for honeymooners and newlyweds. Here, couples can enjoy a romantic and tropical atmosphere both in and out of the hotel, enjoy delicious food at the elegant restaurant, and relax by the tranquil lagoon-like pool, surrounded by palm trees and colorful flowers.
The property has been crafted with the use of natural materials including wood, glass, stone, and bamboo, so it blends ideally with the natural surroundings. Guests can choose from 21 villas, all designed with the "rustic-luxe" concept in mind. Think low-lightning and Asian-inspired design including bamboo furniture, thatched roofs, and wooden floors. Standard amenities include a flat TV screen, iHome Stereos, electric kettles, espresso machines, minibars, and free Wi-Fi. Suites offer some extra comfort with kitchenettes and an outdoor whirlpool surrounded by wall gardens.
At the Dining Room, guests can enjoy Malay and Western dishes in a relaxing glass-walled property by the lagoon pool.
Villas start at $150.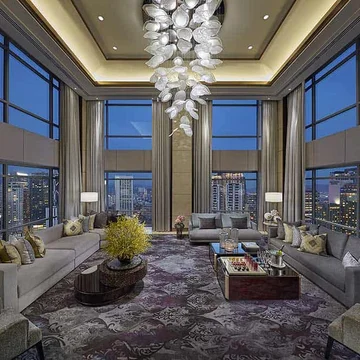 Mandarin Oriental
Mandarin Oriental boasts a prime location in one of Kuala Lumpur's most exclusive neighborhoods – KLCC, close to the Petronas Twin Towers and KL City Park. Step outside of the hotel's gates and you'll find yourself in a busy area dotted with upscale dining and shopping options. Pavilion, one of the biggest shopping malls, is a 15-minute walk away while the Kuala Lumpur Convention Center is a 10-minute drive away from the hotel.
Check Availability
Mandarin Oriental's chain of hotels is well-known for having an ultra-luxurious style. Enter the hotel's lobby with green-and-gold marble and crystal chandeliers and you'll immediately know you're in for a treat.
The hotel has 643 rooms with views over the park and the Twin Towers. All rooms have a traditionally elegant decor with light tan carpets, old school wood furniture, and floral prints, while the heavy two-poster bed frames add to the romantic ambiance. The bathrooms are sleek with a combination of black-and-gold marble, deep soaking tubs, and separate rain showers. Additionally, the Club Suite has its own sauna. Amenities include flat TV screens, iPod docks, in-room safes, electric kettles, well-stocked minibars, and ironing boards.
Mandarin Oriental has a myriad of facilities including two outdoor pools, numerous restaurants and bars, a massive spa, and indoor golf terrain. At the third-floor infinity pool, guests can enjoy craft cocktails while overlooking Kuala Lumpur's skyline.
Deluxe rooms with sky views start at $220.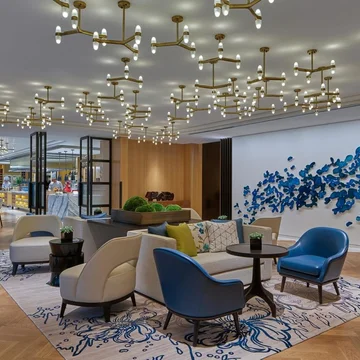 Grand Hyatt
Overlooking the iconic Petronas Towers and close to Kuala Lumpur Convention Center, Grand Hyatt boasts a prime location. The hotel is in close proximity to the Golden triangle area, which is the main shopping, dining and entertainment district in Kuala Lumpur, and just 20 minutes away from Pavilion mall.
Check Availability
Grand Hyatt's 412 rooms spread across sixteen floors, all featuring views over KLCC Park and the Petronas Twin Towers. The decor is sophisticated and modern with wood furnishings, comfortable sofas, and marble accents in a warm earth-toned palette. Standard rooms start at 506-square-feet and are equipped with sitting areas with ottomans, couches, and enormous king-size beds. Standard amenities include iPod docks, flat TV screens, in-room safes, minibars, electric kettles, and coffee makers. The marble bathrooms are elegant with frosted glass doors, double vanities, and a walk-in shower. Guests staying at the Grand Club Rooms have access to the Grand Club Lounge as well as numerous benefits including complimentary breakfast, cocktails throughout the day, and a dedicated concierge.
The main draw here is the THIRTY8 restaurant and bar, conveniently situated on the top floor. Guests can choose from Western, Chinese, or Japanese specialties in a contemporary setting with a show kitchen. Top-notch cocktails are served at the bar lounge with panoramic views over Kuala Lump