No one needs an excuse to visit Mexico. The country's mesmerizing surroundings, golden beaches, and vibrant culture have always been enticing high-end travelers to embark on an adventure. If you're looking for some luxury hotels in Mexico in order to enhance your travel experience, we've got you covered.
We have selected the best luxury hotels in Mexico where you can enjoy delicious Mexican cuisine, tropical elegance, and world-class service.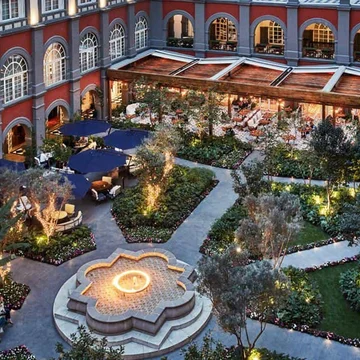 Four Seasons
Featuring an ideal location on the central Avenue Paseo de la Reforma, only moments from some popular attractions in the area, Four Seasons is a sophisticated hotel ideal for picky high-end travelers. A quick stroll will take you to the Angel of Independence, the marvelous Bosque de Chapultepec, and the world-famous Museo Nacional de Antropologia (Anthropology Museum). The trendy neighborhoods of Condesa and Polanco are just a stone's throw away.
Check Availability
Set amidst a lavish garden full of tropical fruit trees and chirping canaries, Four Seasons is a vast hacienda-style property bound to make an impression. The hotel's colossal property centers around a star-shaped Spanish-style fountain surrounded with steel statues and wildflowers where guests prefer to drink their morning coffee.
The 240 sumptuous guest rooms and suites were renovated in 2015 and now boast the latest furniture and amenities as well as state-of-art technology. Colored in a vibrant burgundy palette and featuring delicate lightning, these generously-sized rooms reflect perfectly the vibrant spirit of Mexico City. All feature extremely comfortable king-size beds, clean-lined sofas, iHome deck, flat TV screen, and well-stocked minibars. The spacious bathrooms feature deep soaking tubs and L'Occitane toiletries.
Pamper yourself with some of the healing treatments at Four Seasons lavish spa. We recommend the Mexican rebozo treatment – an ancient massage technique ideal for relieving stress and body tension.
At the stylish Zanaya restaurant, chef Emiliano Rabia serves the authentic flavors of the Mexican Pacific Coast. Bright and boldly decorated, Fifty Mils is one of the most sought after bars in a town filled with international travelers and locals alike. Here, fresh and swanky cocktails are prepared by two famous names in the bartender's world – Mica Rousseau and Axel Pimental.
At Four Seasons, the prices for a Superior Room start at $360 while the Executive Suite costs $685 per night.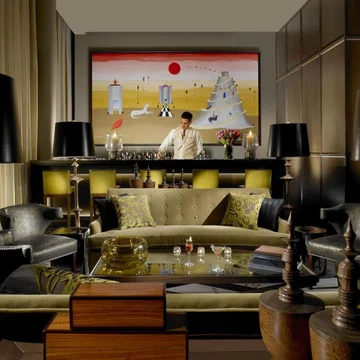 The St. Regis Mexico City
Mexican authenticity and modernity collide at this luxurious hotel particularly popular among celebrities and A-listers. Boasting a prime location on the historic Paseo de la Reforma, The St. Regis is the ideal base for travelers who want to explore the bustling Mexico City on foot.
Check Availability
Step outside the hotel's doors and you'll find yourself on a busy avenue that's home to endless restaurants, posh shops, art galleries, and handicraft shops.
The hotel was designed by the acclaimed architect Cesar Peli, who had a vision that St.Regis should serve as an isolated oasis that puts the hectic life of Mexico's dynamic capital on pause. Rising 31 stories above the streets below, the St. Regis Mexico City is just as Cesar Peli had imagined it – a secluded sanctuary filled with sumptuous rooms that make guests immediately feel at home. The hotel's interior is unforgettable with blue velvet sofas, floral-patterned carpets, glass tables, and fresh flower displays.
The suites are equally astonishing with floor-to-ceiling windows providing dazzling views of the vibrant Mexico City and its popular monument Diana Cazadora, which pays tribute to the Greek goddess Diana.
Anticipate exquisite comfort at St. Regis' spacious rooms filled with natural light, decadent amenities, sumptuous textiles, and deluxe furniture. The interior is sophisticated and contemporary. Rooms are colored in the hotel's signature purple and cream color palette and guests will appreciate nice touches such as plush carpeting, beige sofas, and framed abstract paintings.
Boasting sublime views over the fountain Diana the Huntress, Diana Restaurant invites guests to indulge in some upscale Mexican cuisine. Here the talented chef Fernando Sanchez brings the authentic flavors of the traditional Mexican cuisine to life, using only local ingredients and fresh seafood.
Expect room rates for a Deluxe room starting at $410, while the Executive Suite costs $704 per night.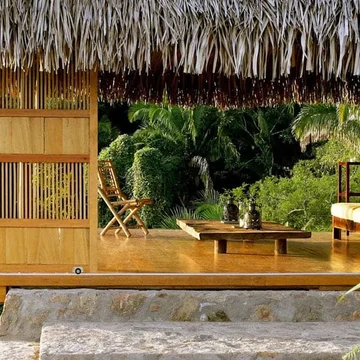 Verana
This is the ultimate romantic getaway, period. Reachable only by boat – just getting to this lavish resort is an experience of its own. Verana is set amidst a wild jungle high above the charming village of Yelapa. Verada is ideal for adventurous spirits who will certainly enjoy traveling in a dense jungle in one of the most isolated parts in Mexico. However, traveling to Verana is worth the trouble as the hotel boasts epic views over the mesmerizing Bay of Banderas.
Check Availability
The hotel is designed by