Whether you visit Morocco to explore its mysterious medinas, taste some tempting dishes, or simply marvel at the Sahara desert, you're in for a treat. Just walking through the medina's narrow pathways is an adventure of its own, while riding a camel through Sahara's dunes is a one-of-a-kind experience you'll never forget. The most appropriate way to delve into this fascinating country is definitely through its luxury hotels that manage to embody Morocco's rich and varied history.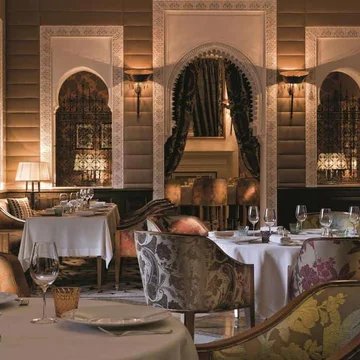 Royal Mansour Marrakech
Expensive, bold, and extravagant, Royal Mansour is the most luxurious hotel in Marrakech and guests can rest assured that it's worth every penny. Nestled inside the walls of the imperial city and overlooking the majestic peaks of the Atlas Mountains, Royal Mansour Makes hides over-the-top amenities inside its exclusive 5-hectare estate.
Check Availability
The hotel's brilliant locations inside the medina within the walled section of the ancient city present the ideal base for savvy travelers who want to explore this inviting city on foot. Jemaa el-Fnaa square is just 10 minutes away while all the main attractions within the historic city including The Koutoubia Mosque, Ben Youssef Mosque, and Majorelle Garden are within a 20-minute walk.
This hotel offers unparalleled luxury in grandiose interiors where no detail is overlooked. Picture tile mosaics and carved wooden ceilings created by an army of local artists, gold leaf decoration on the walls, and silk fabrics. The exquisite decor continues in the enormous suites which feature at least two floors, private plunge pools, hammams, fully-equipped kitchens, and roof decks. The ambiance is decadent with a red color palette, leather, and copped furnishings, and enormous beds.
With its own medina, three restaurants, lavish gardens, 53 sumptuous riads, and 2500 square-meters spa, Royal Mansour Marrakech is arguably one of the most opulent hotels in Morocco.
The superior Riad room starts at $1,200.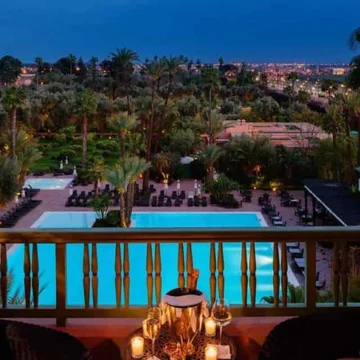 La Mamounia Marrakech
Marrakech's grande dame, La Mamounia is just minutes away from the famous Jemaa el-Fna Square and within close proximity to both the old and the new part of the city. The city's oldest mosque, the Koutoubia Mosque is a 15-minute walk away, while the Marrakech Menara Airport is a 10-minute drive away.
Check Availability
The hotels boast an enviable guest list including Winston Churchill, Jenifer Aniston, and Princess Caroline of Monaco. As you might expect, the service is impeccable and courtly. Nice touches such as fresh flowers and bowls of fruits remind guests that they are indeed at a five-star hotel in the unforgettable Marrakech. Rooms embody the Morrocan art of living with tile work on the walls, painted wooden doors, and king-size beds with arched headboards. Guests can pick between a room with garden views or views over the Atlas Mountains and the Koutoubia Mosque. Each room is equipped with a flat TV-screen, minibars, in-room safes, work desks, and free Wi-Fi. The sleek decor continues in the bathrooms furnished with white marble and Morrocan tile work. All bathrooms have deep soaking tubs, rain showers, vessel sinks, and luxurious toiletries.
Boasting 5 bars, a lavish spa, four inviting restaurants, two pools, and a mini shopping mall, La Mamouina may tempt you to never leave its gates.
The Superior Hivernage room starts at $550.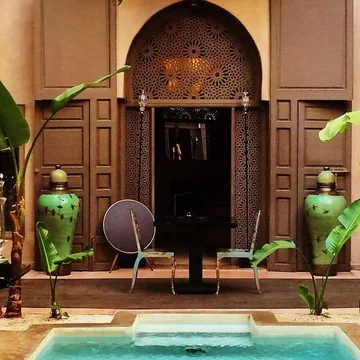 Riad Noir d'Ivoire
A hidden oasis in Marrakech's historic Medina, Riad Noir d'Ivoire's sumptuous accommodation will leave you in awe. Aside from boasting ultra-modern rooms, Riad Noir d'Ivoire also has an enviable location in Marrakech's historic center; just a 20-minute walk from the famed Jemaa el-Fna square. As proof of their outstanding service, Riad Noir d'Ivoire provides every guest with a cell phone, so guests can call the hotel in case they get lost in the city.
Check Availability
The hotel's spacious rooms hidden behind riad's walls are tastefully decorated with Berber and authentic Marrakesh artworks, fabrics, and furniture. The warm earth-toned palette and the delicate lightning add a romantic vibe to the ambiance. Well-heeled travelers particularly cherish the Guepard Suite, also known as "the honeymoon suite", which boasts a large roof terrace, spiral staircase, and ornate living room overlooking the summer courtyard. And if that's not enough to capture your attention, let's just add that the suites at this hotel also have traditional Moroccan tadelakt bathrooms and private roof terraces with a jacuzzi, sunbeds, and dining pergola.
One striking feature of Riad Noir d'Ivoire is the lavish 27,000-square foot spa which features 13 treatment rooms, hammams, a beauty salon, and an indoor and outdoor menu with luxurious beauty treatments and massages for both men and women.
Rooms start at $530.