New Zealand's renowned natural wonders are one of the many reasons as to why it attracts millions of tourists every year. From remote islands to glaciers, lakes, and forests, there is plenty of stunning scenery to explore. The outdoors can be harsh and exploring is tiring, so what better way to recharge your batteries than selecting a hotel from our best luxury hotels in New Zealand list in order to bring the right amount of comfort and lavishness to your holiday?
We present to you a varied mix of luxury hotels spread across islands, capitals, waterfronts, and remote locations.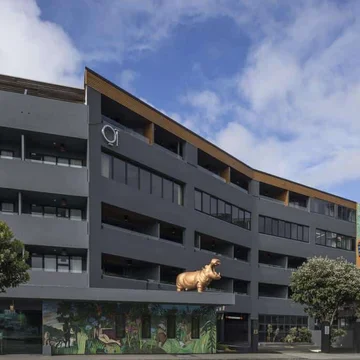 QT Museum Wellington
Combine luxurious art with an equally luxurious hotel and you get the trip of a lifetime. QT Museum Wellington, one of the best luxury hotels in New Zealand, is a magnet for aesthetes all around the world. Located across the Wellington waterfront, the hotel is within walking distance of the Waitangi Park, Courtenay Place, and the Oriental Parade Beach. Te Papa, one of the most renowned museums in New Zealand, is a few minutes away from the hotel.
Check Availability
Choose from 65 beautifully appointed rooms and suites. A timeless black-and-white color palette is merged with eye-catching arduous accents, giving the interior a stylish finish. The rooms, including the en-suite bathrooms, are brimming with sophisticated local art. From luxurious king beds to designer lounge chairs, the rooms ooze opulence and splendor. The bathrooms, equipped with complimentary ALICE amenities, have a splendid bath area and antique-looking, gold-framed mirrors.
Hippopotamus, a famous on-site restaurant, is an experience on its own. To explain the interior as extravagant would be an understatement – low-hanging crystal chandeliers, plush colorful sofas, and patterned carpets are combined in a style that's aptly described as "flamboyant Parisian chic". Keeping up with the Parisian theme, the hotel serves French cuisine and has recently opened its cellar door to the public, giving you the opportunity to taste some of New Zealand's best wine. In case you're in the mood for something a bit understated, visit the equally magnificent Hot Sauce restaurant, serving amazing Asian cuisine.
QT Museum Wellington knows how to satisfy gym rats. There's a spacious fitness center on the property that boasts two swimming pools, and there's also a sauna if that's your preferred relaxation method.
One night at QT Museum Wellington starts from approximately $130.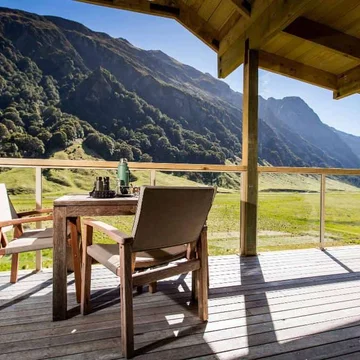 Minaret Station
Minaret Station is a prestigious and secluded resort, located in Wanaka – a remote location that's only accessible by a helicopter. Surrounded by mountain peaks and valleys, this luxury lodge gives its guests a taste of the beautiful nature New Zealand is known for. The town of Queensland is a two-hour flight away from the lodge.
Check Availability
Despite having a remote location, there are a great many things to do at Minaret Station. The experiences offered, mostly helicopter-based, are unlike any other. Guests can book a full day of hail traversing, wildlife spotting, or a private boat cruise. For all adrenaline junkies out there who aren't afraid of heights, a memorable adventure awaits at Aoraki Mt. Cook – the tallest peak in New Zealand, where you can explore the caves and icefalls and have a private picnic on top of the mountain.
The main lodge at Minaret Station contains a cozy library – an ideal place to enjoy a hefty volume near the crackling fire. The bar area offers some tasty spirits and an impressive wine selection. Made with local and fresh ingredients, the meals offered at Minaret Station's restaurant are scrumptious beyond belief. The daily-changing menu ensures that the meals are as fresh as can be. The breakfast buffet is generous and filled with guest favorites, ranging from fresh fruit to buttery pastries.
The Alpine Lodge at Minaret Station offers only four chalets, further emphasizing the exclusivity of the lodge. The chalets, with their private spas, decks ideal for stargazing, and floor-to-ceiling windows that reveal great views of the surrounding nature, are a real treat. Be prepared to spend a couple of days without a TV nearby, since the rooms don't include one. With that said, the raw beauty and spectacular nature of the place will make you forget they ever existed. A hot tub, a king-sized bed, and a kitchenette are also included.
The prices at Minaret Station start from $1,500 a night.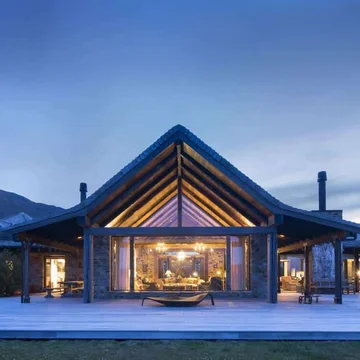 Mahu Whenua
Mahu Whenua is an exclusive and eco-friendly lodge nestled between the towering mountains and sheep stations. Central Wanaka is located a mere 20-minute drive away from the hotel, resulting in the perfect balance of remote, nature-filled holiday and a city break, in case you feel like a change in scenery.
Check Availability
Only four suites are available for rent. Views of Lake Wanaka and the surrounding valleys are the cherry on top of an ultimately lavish accommodation style.