Home to one of the new seven world wonders, Machu Picchu, Peru is a destination that's not to be missed if you ever plan on exploring South America. But, the coastal country has much more than meets the eye; think adventurous upscale jungle retreats, lavish summer resorts, as well as other notable historic and eco-tourist sites such as lake Titicaca. All of that and more make Peru's luxury hotels extremely desirable, so you would do well to take a look at the best ones when planning your trip.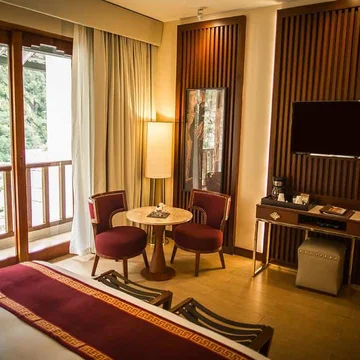 Sumaq Machu Picchu Hotel
The small welcoming town of Aguas Calientes in the Urubamba valley has long been a popular base for exploring Machu Picchu and this scenic region of Peru. The long winding road that leads to the historic site can oftentimes be muddy and this tourist hotspot is bustling in high season, but all of that is offset by the congeniality and undisputed interior splendor of the Sumaq Machu Picchu Hotel.
Check Availability
The hotel offers mystical, guided tours with the help of a local shaman, while the staff is extremely helpful and eager to attend to your every need. The on-site spa is also very respectable, all things considered. The rooms and suites feature coffee machines and a minibar stocked with complimentary drinks. The style is best described as regal, with gold & dark wood tones, exuding a homely ambiance.
The in-house Qunuq Restaurant has a wide variety of locally sourced Andean fusion dishes on the menu, while their very exclusive Munayki tasting menu is a once-in-a-lifetime experience in a romantic setting. The very commodious Suquy Cafe & Bar is the go-to spot for all sorts of drinks and cocktails with a Peruvian twist in an elegant setting.
Whether you're looking for an intimate getaway or an exploration base for the surrounding famous sights, all in all, Sumaq Machu Picchu is surely the best hotel in the region. This is further exemplified by the establishment's perennial presence among the picks of renowned hotel award organizations, such as Condé Nast Traveler.
As such, the hotel's rates for double rooms tend to stand at around the $500 price point, year-round, but certain packages and promotions may drop the price all the way down to $280 per night.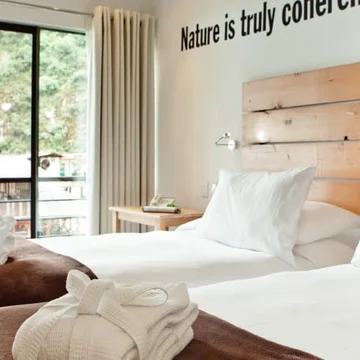 El MaPi
If you found the previous listing too over-the-top in terms of style and general vibe, we don't blame you; it's a very pronounced tendency of most resorts of that stature, but fret not! An ideal secondary accommodation option for exploring Machu Picchu and the vicinity is always available. The superbly trendy El MaPi managed by the Peruvian hotel chain Inkaterra, who certainly know a thing or two about contemporary boutique hotels, doesn't disappoint in any facet.
Check Availability
Although it has a more central location in Aguas Calientes, and as such is a tad less intimate, El MaPi manages to provide guests with an "unfussy, down-to-earth break". The hotel has eight suites and 122 rooms with floor-to-ceiling windows, ensuring the best views of the surrounding scenery. In-room amenities include flat-screen TVs, safe boxes, coffee machines, minibars, free wi-fi, and best of all, complimentary herbal toiletries.
The point where El MaPi might come off as lacking is its facilities, as it has only a bare-bones spa, but the friendly staff more than makes up for certain shortcomings (if we're being harsh) by being incredibly attentive and courteous.
The vibrant La Cafeteria is a great hub for a hearty meal and an amiable conversation with other tourists. Their lunch and breakfast menu might not have much in the way of variety or gourmet cuisine, but the portions are sizable and they offer takeaways. For a snack and a drink or three, El Bar is ever at your service, being open way past midnight, with their happy hours being from 5:30 pm to 7:30 pm.
Entry-level double and triple rooms can be booked for $220 year-round, barring any unforeseen circumstances.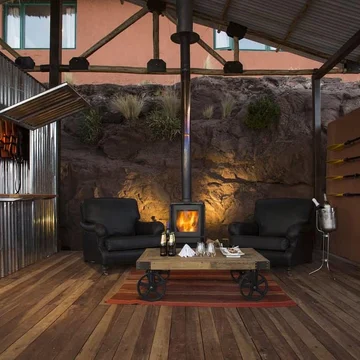 Titilaka
Lake Titicaca, bordering Bolivia and home to more than 530 aquatic species, is the largest lake in all of South America. As such, it presents a genuine natural marvel housing multiple picturesque islands, while the nearby historic sights of Temple Kalasasaya and Cutimbo present a glimpse into the rich Inca heritage. In short, Lake Titicaca is the location for eco-tourists and cultural tourists alike.
Check Availability
The modern, waterfront, award-winning lodge of Titilaka is the perfect retreat from which to explore everything the quaint surrounding area boasts. All of the four room types are spacious and feature views of the lake, while the outdoor transparent Domes provide you with absolute comfort while mimicking the feeling of sleeping under an open night sky.
Since the hotel offers all-inclusive packages, all food and drink options come free of charge. You'll have the opportunity to sample some of the best food in the country since everything that's served is prepared with care and from locally sourced produce. Don't go without trying their mouthwatering ceviche, made from trout in the