If white-sand beaches, water adventures, and year-round balmy weather sound appealing to you, then it's time to nominate the Philippines as a candidate for your next travel destination. We have selected the best luxury hotels in the Philippines with the hopes of giving you inspiration for which lavish home away from home to select on your next tropical getaway. Will it be Boracay Island, one of the leading destinations for relaxation, the buzzing city of Manila, or something entirely different? The choice is yours.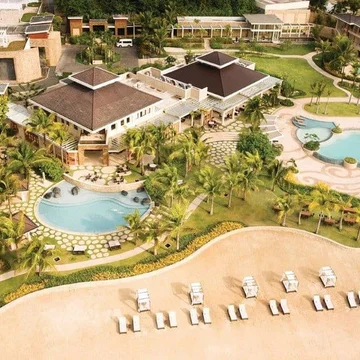 Cagraray Island, Philippines
Misibis Bay Resort
Secluded, sophisticated, and surrounded by wild, beautiful nature, Misibis Bay Resort is one of our top picks for luxury hotels in the Philippines. The resort is located on Cagraray Island, which can be reached via a speedboat.
Check Availability
What makes Misibis Bay Resort so captivating is the list of thrilling activities guests have access to. Take, for instance, the once-in-a-lifetime opportunity to swim with white sharks in Donsol, or examine up close Mayon Volcano. You can partake in a wide range of water sports, too, such as paddle surfing, kayaking, and windsurfing. If you like to stay active while on holiday, this place would make an ideal option for you.
Apart from adrenaline-filled activities, guests can enjoy two sizable swimming pools, an activity center, and a fully-equipped gym. The Essences Spa makes for a particularly relaxing break amidst your packed itinerary.
Try the best flavors of Bicolano cuisine at Spice Market, an all-day on-site restaurant. For those who don't like leaving their culinary comfort zone, various international options are available. The Sula bar offers a wide range of spirits and cocktails, which can be served by the infinity pool for a particularly romantic setting.
The rooms at Misibis Bay Resort are quite varied, ranging from standard garden-view villas to Asian-inspired villas. The rooms have a tropical design and neutral furnishings, featuring amenities like an LCD TV, a complimentary coffee counter, and a commodious bathroom. Some of the villas have their own private plunge pools and beach beds.
The rates at Misibis Bay Resort start from $150 a night.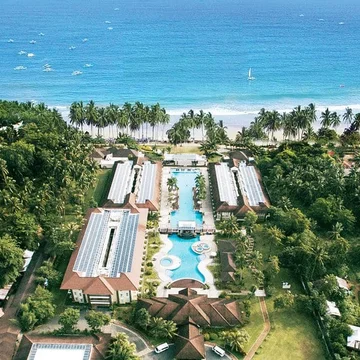 Sabang Beach, Philippines
Sheridan Beach Resort and Spa
Located a short boat ride away from the Subterranean Underground River, Sheridan Beach Resort and Spa enjoys a tranquil location, nestled between tall mountain ranges and crystal clear waters of the West Philippines Sea. Known for its ethos advocating sustainability, it's the perfect match for those eager to stay green while traveling.
Check Availability
Adrenaline junkies will have a whale of a time trying out all the adventures offered. The most sought after option is the Underground River Tour which takes you on an odyssey on the world-famous Underground River in Puerto Princesa, part of the new 7 Wonders of Nature.
The pampering Sheridan Nature Spa focuses on holistic treatments that will revitalize both your body and soul, while the 340 feet long swimming pool, which happens to be the largest swimming pool in Palawan, is available to guests at all times. You can also catch some sun while chasing after endorphins at the outdoor fitness center featuring state of the art equipment.
The beachfront restaurant completes the overall wholesomeness of the resort. Enjoy a romantic candlelight dinner and sample the finest gourmet cuisine with an international touch. The on-site Blue Bar, which shares the same location, serves artistic cocktails and spirits in a beautiful setting.
Although minimalistic, the rooms and suites at Sheridan Beach Resort and Spa are chic and romantic, equipped with a minibar, coffee and tea making machines, and a private balcony where you can watch the sunset. The bathrooms are quite large and come with complimentary bathrobes, slippers, and luxury amenities.
The rates at Sheridan Beach Resort and Spa start from $150 a night.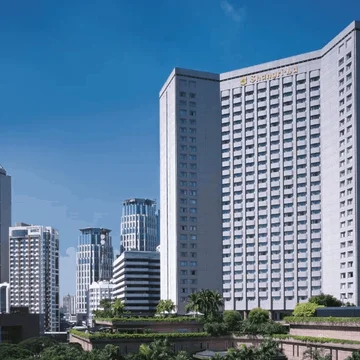 Makati Shangri-La Manila
Makati Shangri-La Manila's impressive exterior dazzles from a mile away. Located in the heart of Manila, near the business and shopping districts, the hotel boasts a central location that will make sightseeing and exploring the city a breeze.
Check Availability
Shangri-La hotels are known for their serene and soothing spas, and Makati Shangri-La Manila is no exception. The popular Aroma Wellness Massage uses a combination of Swedish massage techniques and essential oils to melt the stress away and increase circulation. Apart from a spa, the hotel's health club offers a sauna, outdoor swimming pool, and gym.
The hotel contains five on-site restaurants, among them, Circles Event Café appears to be the most popular option. With its open-theatre kitchens, an appealing blend of Asian and international cuisine, and a chic setting, we can easily see why that's the case. Inagiku is equally outstanding, serving authentic Japanese cuisine in a zen setting.
Containing a whopping 692 rooms and suites, Makati Shangri-La Manila is easily one of the biggest hotels in Manila. Elegant, spacious, and pristine, the rooms are designed to be both comfortable and pleas