Puerto Rico is one of the most visited tourist destinations in the Caribbean Sea, attracting millions of tourists every year. The country is known for its historic cities like San Juan, miles-long golden beaches, incredible local cuisine, as well as the El Yunque National Forest and the beautiful waterfalls. The luxury hotels in Puerto Rico on our list are diverse, opulent, and offer a plethora of amenities that will fuel your sightseeing, exploring, and outdoor adventures.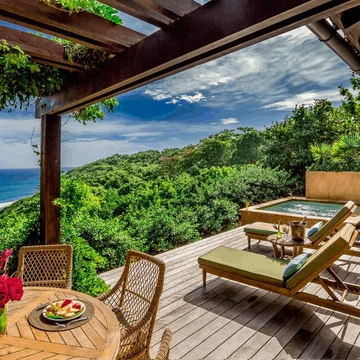 Royal Isabela
Royal Isabela is a secluded five-star hotel overlooking the Atlantic Ocean and the awe-inspiring cliffs of Puerto Rico's northwest coast. This beautiful setting makes Royal Isabela an ideal choice for anyone looking for a quiet getaway surrounded by untouched nature.
Check Availability
One of the main on-site attractions at Royal Isabela is the extensive golf course – an attraction in its own right, containing flora and fauna unique to the island. Its atmosphere and natural beauty are bound to impress any guest, whether they like golfing or not.
Equally spectacular in terms of dining, Royal Isabela employs a farm-to-table philosophy resulting in delicious and fresh cuisine. Jota Restaurant's menu highlights include the Cheese Platter, containing carefully selected local cheese, Seared Scallops, and Pumpkin Risotto. To complement your meal, select a drink from their extensive drinks menu – the single malt and gin are a must-try!
Much like the resort itself, the villas at Royal Isabela seamlessly blend luxury and nature, giving you a once in a lifetime experience. Each villa, charmingly called Casita, features a private pool, a terrace, a spacious living area with a flat-screen TV, comfortable canopy beds, and a bathroom with a separate bath and shower. Wooden furnishings are combined with neutral color tones, resulting in an earthy vibe, ideal for an island getaway.
The rates at Royal Isabela start from $400 a night.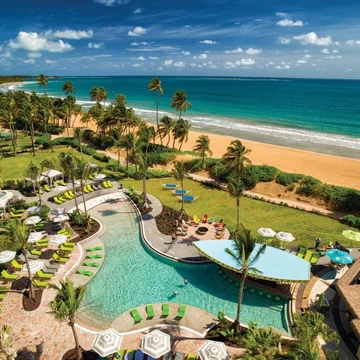 Apart from long, exotic beaches, this award-winning resort boasts two championship golf courses and a luxury spa. Fitness and sports are taken to the next level; while staying here, you can book yoga classes, take salsa lessons, play beach volleyball, partake in beach obstacle races, or take an aqua aerobics class. Who said fitness isn't fun? For those less keen on thrilling sports, you can birdwatch or go iguana feeding. The resort contains various on-site restaurants where you can enjoy a wide array of flavorful Caribbean dishes made of the freshest ingredients available. A splendid breakfast is served at Marbella, including American staples and Puerto Rican favorites.
Choose from 400 stunningly appointed rooms and suites at Wyndham Grand Rio Mar Puerto Rico Golf & Beach Resort. The décor is inspired by the resort's lush surroundings, so expect to find colorful motifs, gorgeous artwork, and wooden furnishings. The rooms and suites are appointed with a flat-screen TV, coffee and tea making facilities, and a private balcony.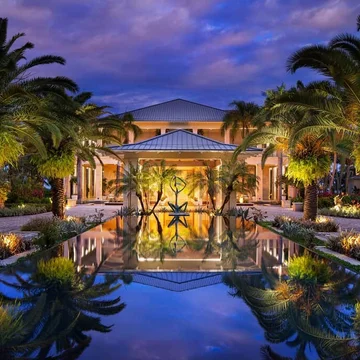 The St. Regis Bahia Beach Resort
A stunning location, five-star amenities, and splendid accommodation options – these are a few of the factors that make The St. Regis Bahia Beach Resort one of the best hotels in Puerto Rico. Located on a former coconut plantation, this unique resort captures the essence of Puerto Rico perfectly – think long private beaches, lush greenery, and incredible views of the Atlantic Ocean.
Check Availability
The amenities offered are simply unbeatable. You name it – The St. Regis Bahia Beach Resort probably has it. Iridium Spa is a sanctuary of tranquility and rejuvenation, giving you the option to select from a long list of treatments using transformative skincare. If you're on the lookout for a quick endorphin rush, you can visit the state-of-the-art fitness center, play a game at one of the tennis courts, book a yoga or Pilates class, or swim in the remarkable seaside pool. Golf enthusiasts will be delighted to know that the resort boasts an on-site golf course with a gorgeous backdrop. Outdoor activities like kayaking and biking are also available.
Tasting delicious local cuisine is the hallmark of a memorable holiday, and the on-site restaurants at The St. Regis Bahia Beach Resort have you covered in that regard. Paros Restaurant's Greek and Mediterranean cuisine is a culinary treat on its own, but pair that with the stunning beach views and you get the perfect setting for a night out. Seagrapes Restaurant is an al-fresco restaurant featuring bistro cuisine made by a dedicated culinary team that uses fresh and locally sourced ingredients. The signature St. Regis Bar is a great way to end your day in paradise. Make sure you don