Whether you visit Austria to explore its beautiful mountains, taste the delicate cuisine, or simply marvel at the stunning architectural works, this beautiful country promises unforgettable moments. Europe's hidden gem is the birthplace of musical prodigies, outstanding artists, and major philosophers who have influenced in numerous ways our current culture. The most appropriate way to delve into this fascinating country is definitely through its luxury hotels that manage to embody Austria's rich and varied history.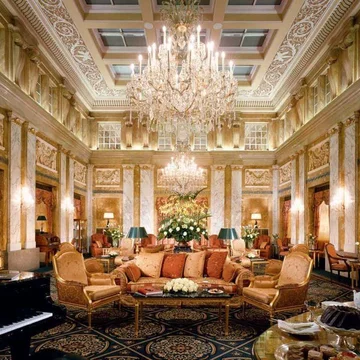 Hotel Imperial
Hotel Imperial is one of the best, oldest, and most opulent hotels in Vienna. The property used to be the private residence of Prince Phillip of Wurttemberg until 1873 when it was reimagined as a luxury hotel in the heart of Vienna. The Imperial is situated on the Kartner Ring where it's surrounded by numerous historic buildings. State Opera and Musikverein concert halls are just a short stroll away while the Albertina and Kunsthistorisches Museums are just around the corner.
Check Availability
Inside the hotel's neoclassical property, guests will discover rich and enormous spaces where one feels like stepping back in time at a party, or better say a ball, in the 19th century. All interiors showcase the beauty of the 19th century Vienna with pristine marble, hand-carved statues, and dazzling crystal chandeliers. A royal staircase leads up to all rooms and suites while every corridor is illuminated with chandeliers that sparkle from high stucco ceilings.
Guests can choose between 137 rooms and suites, all featuring unique palatial style. Expect silk wall coverings, antique furnishings, crystal chandeliers, and heavy drapes. For an elevated experience, book the Royal Suite where you can feel like royalty in three bedrooms with seven meter-high ceilings, a spacious marble bathroom, and a bar with champagne. Guests staying in some of the suites are entitled to a personal butler and a limousine.
At Cafe, Imperial guests can get a taste of the city's best Wiener Schnitzel, while the Michelin-starred OPUS serves Western specialties paired with the best Austrian wines in a setting boasting 1930s style.
Double rooms start at $600.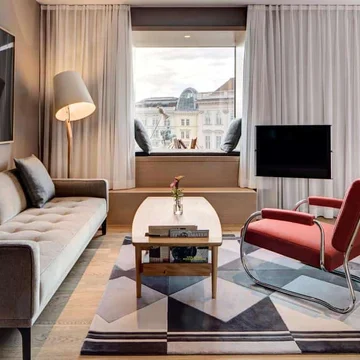 The Guesthouse
Boasting a top-billing address on Albertinaplatz, The Guesthouse is a favorite among the hotel offerings in Vienna's city center. The hotel is surrounded by numerous landmarks including Albertina Museum, Augustiner Church, Opera House, and Hofburg. Step outside the hotel gates and you'll find yourself in a vibrant district filled with numerous upscale shopping and dining options. Burggarten, one of the most beautiful parks in Europe, is just around the corner.
Check Availability
The Guesthouse prides itself on having rooms that feel more like private apartments and less like generic hotel rooms. Designed by the acclaimed British design studios Sir Terence Conran and Conran & Partners, the rooms' interior offers comfort and sumptuous luxury, including huge sound-proof windows that give way to views over the beautiful courtyard or the opera. Standard amenities include espresso machines, minibars with 4 bottles of Austrian wine and non-alcoholic beverages, air-conditioning, flat TV screens, and high-speed Wi-fi.
You can also find tailor-made Wittman sofas and Italian coffee tables which only add to the sophisticated ambiance. The bathrooms are equally stunning with faux-marble floors, heated mirrors, bathtubs, and rainforest showers. Toiletries are the courtesy of Molton Brown.
The hotel's restaurant Brasserie & Bakery is locals' favorite where al-fresco dining and delicious breakfast are served in an elegant setting. Two-course business lunch is served every weekday throughout the year.
Deluxe rooms start at $420.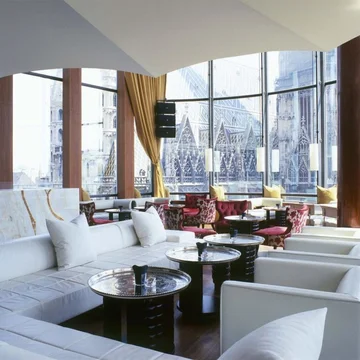 Do & Co Vienna
There's hardly a better location in Vienna than Stephansplatz. From here, guests can explore Vienna's famous shopping precinct, the art-packed Museums Quartier, numerous elegant restaurants, and many bars. The glorious Gothic cathedral is just opposite the hotel while the Hofburg Imperial Palace, the Albertina, and the monumental Ringstrasse boulevard are nearby.
Check Availability
The hotel's 43 luxurious rooms are spread across four floors, all featuring views over Stephenplatz and the boutique-lined street Gaben. The vast soundproof windows infuse the rooms with natural light and keep the street noise to a minimum. All rooms feature Bang & Olufsen flat TV screen, Nespresso machine, rain shower, in-room safe, wine minibar, and free high-speed Wi-fi. Sleek bathrooms feature marble floors, separate rain showers, bathtubs, and ETRO toiletries.
The staff is friendly and well-mannered, just as you would expect from a luxury hotel. Don't hesitate to ask them for some theater recommendations or help around the city. And when it comes to food, the hotel is well-known for serving some of the best food in Vienna; the top-floor restaurant is always packed with locals and international travelers alike