One of the hottest honeymoons spots in the Indian Ocean, Seychelles is a breathtaking archipelago consisting of 115 islands. Half of its landmass is listed as a nature reserve – and although this is an ultra-popular touristic destination, there are still untouched and secluded spots where you can indulge in total "barefoot elegance". The area is brimming with Coco de Mer palms, exotic birds, and coral reefs creating a haven of legendary beauty. The luxury hotels in Seychelles offer an unmatched level of service and tropical style interiors that blend perfectly with the beautiful natural surroundings.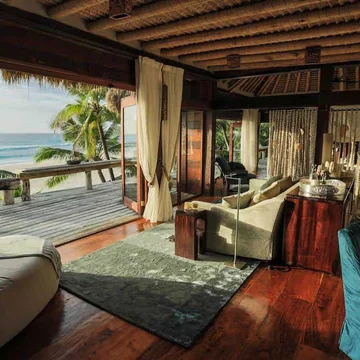 North Island
A true paradise, North Island Seychelles is set on a private island surrounded by four white-sand beaches. This is a car-free island where you can experience the embrace of tropical forests, granite peaks, and colorful flowers. The Silhouette Island and Mahe, which are excellent diving sports, are just a couple of kilometers away. North Island offers a haven of luxury which is frequently visited by A-listers and celebrities including Prince Williams and Kate who visited the resort for their honeymoon in 2011.
Check Availability
The resort was designed by the Cape Town-based architects Silvio Rech and Lesley Carstens who used solely natural materials including indigenous takamaka trees, casuarina trees, rosewood, giant bamboo and sandblasted pine imported from South Africa. The resort's eleven beachfront villas epitomize barefoot elegance with spacious rooms, wood latticework ceilings, and artisan-made furniture. The open-plan flow of the villas creates an airy ambiance. Additionally, all villas have direct access to the turquoise waters of East Beach.
The hotel's two restaurants Sunset Beach and The Pizza Bar & Lounge promise some delicious culinary treats. The daily menu is prepared by the Michelin starred chef Akira Back who likes to pair local ingredients with flavors from all around the world. Attention to detail shows in every dish served in hand-made ceramics.
At this all-inclusive resort, rates start at $5700.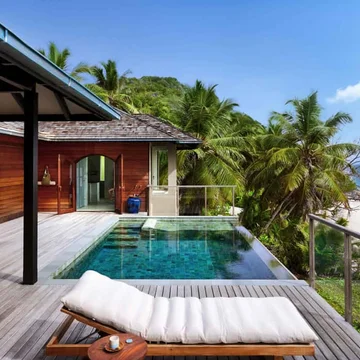 Six Senses Zil Pasyon
Another private island, Six Sense Zil Pasyon is located in the Granitic Islands. Here, you can expect maximum privacy and intimacy while still being close to ten other islands including Praslin, La Digue, and Curieuse Island. Don't miss visiting Cocos Island which is considered to be the best snorkeling spot in Seychelles.
Check Availability
The resort has 28 villas set amidst lush tropical vegetation. Guests can choose from one-bedroom pool villas, two-bedroom pool villas, and four-bedroom residences. Starting at 2,150 square-meters, the rooms are spacious, airy, and infused with natural light. The ocean-inspired color palette creates a relaxing ambiance, while the four-poster king-size beds adorned with silk linens guarantee a good night's rest. The swing seat in the bedroom overlooking the ocean is a nice touch. The bathrooms are sleek with electronic toilets, rain showers, deep soaking tubs, and organic toiletries. For an elevated experience, book some of the Hideaway Pool Villas where you can relax on your own private deck by an infinity pool. All guests have their own GEM (Guest Experience Maker) who is there to create personalized experiences according to the guests' preferences.
At the on-site restaurants, guests are in the hands of chef Richard Lee who creates delicious dishes such as tongue-tingling ceviches, citrus-soaked mango, and egg-grilled lobsters. Additionally, the Island Cafe offers a la carte menu and English breakfast.
Guest rooms start at $1400.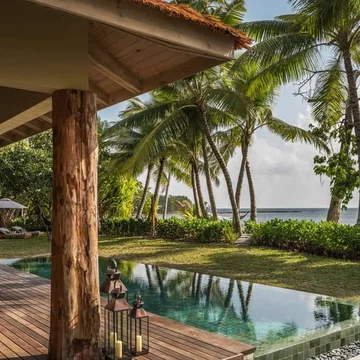 Four Seasons Resort Seychelles
Situated on the southwest coast of Mahe, Four Seasons Resorts boasts one of the best locations in Seychelles. It has its own private beach surrounded by picturesque mountains and overlooking Petite Anse Bay. Here, you can laze your day away on comfortable sun loungers in the company of turtles that roam free on the beach.
Check Availability
Four Seasons Resort offers villas, suites, and residences. Some are set by the beach while others are tucked deep in tropical forests. All units at the resort are surrounded by palm trees, bananas, mango trees, and cinnamon trees. Expect European-Colonial style interiors paired with some top-notch amenities including a flat TV screen, satellite channels, iPod docks, minibar, in-room safe, DVD players, air-conditioning, and high-speed Wi-Fi. No matter the location of your villa, the views are sensational from everywhere. Inside, you can relax on comfortable canopy beds, watch some movies, or just marvel at the views from a comfortable sun lounger.
Water sports enthusiasts will be happy to learn that the resort offers equipment for kayaking, sailing, surfing, paddle-boarding, windsurfing, and boogie boarding. All guests get complimentary surfing lessons. The enticing spa offers a number of treatments including couples' m