Home of impressive palaces, including Gyeongbokgung Palace and Changdeokgung Palace, South Korea is a destination that's not to be missed if you're traveling to East Asia. This country with a rich culture has much more than meets the eye; think futuristic architecture, spectacular natural landscape, and mouth-watering cuisine.
Here are the 15 most opulent hotels that will enhance your stay in South Korea with warm hospitality and attentive service in a luxurious setting.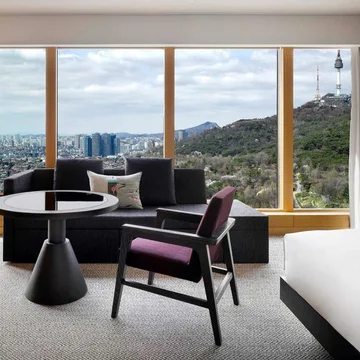 Grand Hyatt Seoul
Delivering impeccable service for decades, Grand Hyatt Seoul is a luxurious hotel set in a beautiful area overlooking Mount Namsan. Some of the most popular districts in town, including Itaewon and Gwanghwamun, are just a short ride away. There you'll discover Seoul's cafe culture and some small shops offering artworks and crafts. Additionally, the hotel is just minutes away from downtown Seoul and Myeongdong.
Check Availability
The hotel's decor celebrates Seoul's heritage by incorporating Feng Shui principles in each unit. The focus on art is evident in all corridors – animal sculptures, as well as traditional and contemporary Korean artworks, add sophistication to the overall laid back atmosphere. Guests can choose from 615 rooms and suites, all appointed with floor-to-ceiling windows which give way to some sweeping views over Han River and Mount Namsan. A comfortable king-size bed is provided along with soft linens, bathrobes, and slippers. Each room is equipped with a minibar, safe, television, air-conditioning, and mini dressers.
Grand Hyatt Seoul doesn't disappoint when it comes to the facilities as well. The lavish spa with 10 treatment rooms and an extensive menu is a real treat, while Club Olympus offers an indoor swimming pool, baby pool, aerobic studio, and two squash courts. Furthermore, Grand Hyatt boasts a massive outdoor swimming pool and three tennis courts.
Standard rooms start at $230.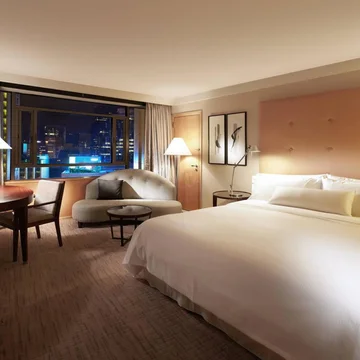 The Westin Chosun Seoul
Seoul's oldest hotel, the Westin Chosun, is known for its warm hospitality and luxurious accommodation. Westin is conveniently situated in the upscale district of Myeongdong and is just minutes away from downtown Seoul, renowned historic landmarks, and popular shopping districts.
Check Availability
This 23-story hotel is known for its impressive style featuring a blend of traditional and modern Korean designs. The renowned American interior designer Adam D. Tihany had reimagined every space in the hotel back in 2011 when he used natural materials including wood, water, and stone to maintain "harmony between the old and new". It's worth noting that South Korea's biggest political, cultural, and economic events are hosted in these sumptuous interiors.
The rooms are spacious and elegant, featuring wood furnishings, soft fabrics, and picture windows overlooking the city or Wongudan Altar. The bathrooms are relatively small, but they do feature shower combos, bidets, and a variety of toiletries. For an elevated experience, book the Renewal Suite fashioned with traditional Korean themes. The wall of windows offers some stunning views over the city, and you can relax in a soaking tub that's situated just next to your king-size bed.
The three on-site restaurants are definitely the best eateries in all of Seoul. Ninth Gate Grille serves a plethora of seafood in a contemporary setting, Hong Yuan is the dedicated Japanese spot set on the 20th floor, and Sushi Cho offers the best of the Cantonese cuisine.
Double rooms start at $150.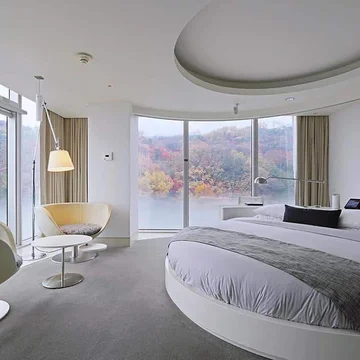 Vista Walkerhill Seoul
Situated on Mount Acha and overlooking Han River, Vista Walkerhill provides guests with beautiful scenery while still being close enough to popular districts. The Sheraton Grande Walkerhill is a short stroll away, while Sinsadong Garosugil, Gyeongbok Palace, and Apgujeong Rodeo Street are just 10 minutes away.
Check Availability
The 17-story property leaves an immediate impression. At night the exterior is illuminated with colorful lights, while the interiors are sleek with contemporary artworks. The hotel supports emerging artists and is the owner of an 800-year old olive tree reborn as a modernist piece. The hip and retro ambiance is geared toward the younger clientele which particularly enjoys the lounge area where DJs are throwing parties every weekend. The quirky ambiance continues in the rooms and suites with egg-shaped chairs, subtle patterned accents, and ultra-modern lamps. The floor-to-ceiling windows infuse the rooms with natural light and provide some scenic mountain and river views. Minibars, bathrobes, flat-screen TVs, safes, kettles, hairdryers – the rooms feature every amenity needed for a comfortable stay. Additionally, the bathrooms are sleek with whirlpool tubs, rainfall showers, and luxurious toiletries.
The bar at the hotel is the ideal place to mingle with international travelers while swaying on some groovy DJ