From the Turquoise Coast, whose name derives from the lustrous eponymous mineral, to Cappadocia, with its awe-inspiring valleys and rich history, Turkey is certainly home to some of the most diverse yet breathtaking landscapes. Istanbul, a vibrant city that's at least a couple of millennia old, spanning the all-important Bosphorus channel, ought not to be forgotten either; even more so when planning your itinerary.
All in all, you would be remiss if you're to neglect including Turkey on your top destinations to visit. And what better way to experience everything this country brings to the table than from the comfort of a luxury hotel?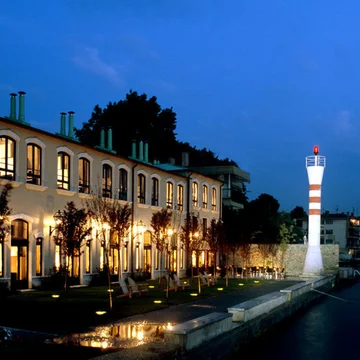 Sumahan on the Water
Overlooking the Bosphorus strait, the scenic location of the Sumahan is truly something to marvel at. Notable nearby sights include the Ortakoy Mosque and the historic Bebek neighborhood that's lined with shops and cafes. Although, both are about a mile away from the hotel, and given the complaints regarding traffic in Istanbul, Sumahan is more of a retreat from which you would enjoy the amenities, the ambiance, and the landscape rather than an "exploration base".
Check Availability
The building is a former Ottoman-era distillery, and as such it retains much of its oriental flavor when it comes to architecture and style. But, thanks to the restoration efforts and modern furnishings, you would feel right at home while enjoying the historic atmosphere.
All of the 13 exclusive rooms and suites provide views of the Bosphorus and feature wooden floors and tasteful decor. Free wi-fi, a minibar, a flat-screen TV, and air conditioning further add to the homely vibe, while the multitude of facilities allow for much in the way of leisurely activities. These include a library stocked with over 800 books on Turkey's culture and history, a wellness center, and a fitness center if you're partial to getting your daily workouts while on holiday.
If you'd like to wine and dine, the in-house Waterfront Restaurant offers plenty of international dishes as well as Turkish specialties. Breakfast options also include fresh Turkish delicacies, such as goat cheese and jams, while providing international alternatives if you deem the home-made options too much of an acquired taste.
Double rooms at Sumahan on the Water start at $230, but this is subject to change depending on the season.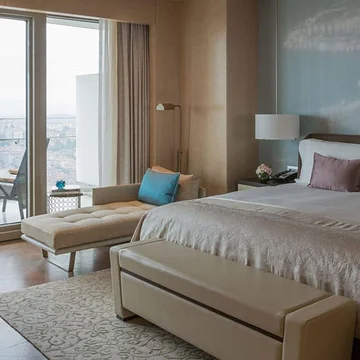 Raffles
If there's one thing we'd have to choose that sets Raffles apart from the rest of the hotels on this list, that's its location. It sports neither a waterfront environment nor is it placed in a district of particular historical importance; it's located in a lively business district. Even so, the historic old town quarter is but a metro ride away, making Raffles the perfect option for those who would like to soak in the local culture without sacrificing comfort and modern luxury.
Check Availability
Rather than revere the bygone Byzantine/Ottoman era in terms of architecture and style, the hotel goes for an uncompromising contemporary aesthetic. The interior is adorned with a broad range of both international and Turkish art while the exterior is that of a modern eclectic tower block. The vast lobby and corridors will leave guests starstruck with their abstract sculptures, avant-garde chandeliers, and detailed glass panels.
Even though the 132 guest rooms and 49 suites with their neutral hue are slightly more moderate in terms of stylistic approach, the floor-to-ceiling windows and the amenities more than make up for it. All of the accommodation options feature free wi-fi, a flat-screen TV, blackout curtains, a minibar, a safe, and air conditioning. The bathrooms are spacious and have complimentary bathrobes, toiletries, and walk-in showers or baths.
The property itself houses more facilities than you'd ever have the time to visit, such as fitness centers, spas, pools, hot tubs, hammams and saunas, and wellness centers. The front desk is staffed 24/7, while concierge and butler services are also available upon request.
The in-house Isokyo restaurant, overseen by chef Clinton Cooper, is probably the best Asian food restaurant you can find in the city. If you're more used to Mediterranean cuisine, you can visit the lobby restaurant Rocca, also providing international delicacies, as well as Turkish dishes on Fridays. The Long Bar and the poolside Lounge 6 offer pre-dinner drinks, while Lavinia Lounge is well known for its teas.
Double rooms start at $455, year-round.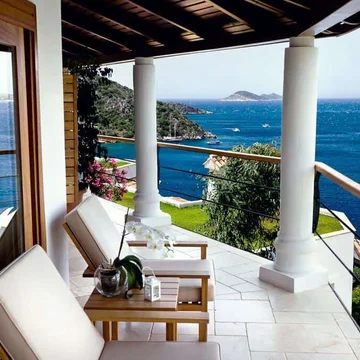 Kalkan, Turquoise Coast, Turkey
Hotel Villa Mahal
Recipient of multiple Condé Nast Johansens awards, including "The Most Romantic Hotel in Europe" and "Best Luxury Value", Villa Mahal is an absolute gem of the Turquoise Coast. Its cliffside location facing the sea, backed by a picturesque mountain range, makes for a dreamlike setting that you won't be able to get enough of.
Check Availability
If you do eventually feel like exploring the nearby mountainous sights, as well as the historically relevant Lycian region, they're all a