Vietnam, the land of incredible cuisine, sandy beaches, and rich history, also happens to be home to many incredible five-star hotels. Today we will discuss our top picks for luxury hotels in Vietnam, spread across Vietnam's islands, capital, and secluded villages. From Hanoi to Ho Chi Minh City, our list includes popular hotel chains, quirky places, and jaw-dropping beach resorts, giving you plenty of variety and options to choose from.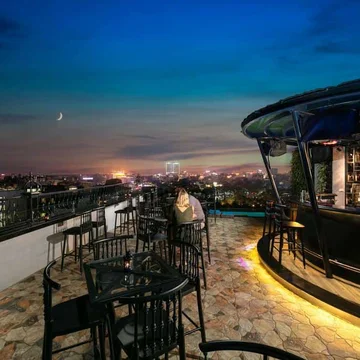 The Oriental Jade Hotel and Spa
The Oriental Jade Hotel, one of the most popular five-star luxury hotels in Vietnam, boasts a central location, a spectacular breakfast buffet, and spacious guest rooms that come with every commodity you can think of.
Check Availability
Located near St. Joseph Cathedral and the Hanoi Opera House, the hotel allows you to explore all the must-see places in Hanoi, as well as the top-rated restaurants in the area. The Thang Long Water Puppet Theater is a five-minute walk away from the hotel, where you can book a fun show and learn all about the local culture.
The service at The Oriental Jade Hotel and Spa is excellent, and their staff is always willing to answer any inquiry and help you with any problem that might arise. Each of the 120 premium guest rooms is air-conditioned and comes with plenty of amenities like a flat-screen TV, complimentary Wi-Fi, a minibar, and a hairdryer. The views vary from room to room, but stunning scenery of the city's main attractions is guaranteed regardless of what room you book. The décor combines ligneous furnishings with pristine white details and linen, resulting in a grandiose yet warm and inviting atmosphere.
The hotel's trendy rooftop bar Sixteen Skybar is one of its most popular features. Here, guests get to enjoy a panoramic view of Hoan Kiem Lake and the Hanoi Old Quarter and an appealing drinks menu brimming with refined wine brands, classic cocktails, and light snacks. The Coffee Lounge, with its boho ambiance and eye-catching furniture choices, is another well-loved on-site spot for warm drinks and spirits. You'll also be glad to know that both a continental and buffet breakfast is available to guests every morning.
Dining-wise, Thang Long Signature Restaurant offers gastronomic delights unlike any other in the area. It's a go-to place for traditional Vietnamese cuisine for both locals and guests. Apart from its dining spots, guests also have access to an outdoor swimming pool and an elegant spa.
The rooms at The Oriental Jade Hotel and Spa start at $70.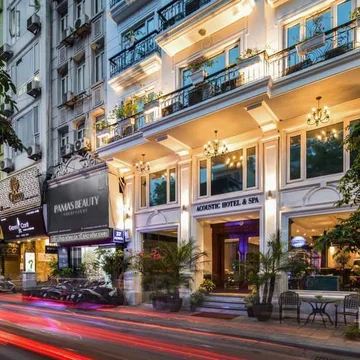 Acoustic Hotel and Spa
Sophisticated and stylish, Acoustic Hotel and Spa is the ideal choice for tourists who love staying in close proximity to the main shopping areas in the city. The hotel is located near St. Joseph Cathedral and the Trang Tien Plaza – one of the most popular shopping malls in Vietnam's capital, with luxury shops like Dior, Burberry, Cartier, and Louis Vuitton. Bike rental is provided by the hotel in case you prefer to discover new cities while cycling. Alternatively, you can make use of the hotel's convenient car hire service.
Check Availability
The rooms and suites at Acoustic Hotel and Spa are suitable for families, couples, and solo travelers alike. Chic in nature, they come with a balcony, a sizable bed with a plush bed frame, gorgeous paintings and artwork, a flat-screen TV, and a desk area. The color palette relies on an elegant black and white combination, while some suites feature a bright red wall. The bathrooms follow the same color palette and are quite spacious, offering a separate bath and shower areas and large, well-lit mirrors.
Guests have access to a well-equipped fitness center and the Indigo Spa – a relaxing oasis with a long menu of treatments and massages. Its namesake – Indigo Restaurant, offers a combination of local and western cuisine that's bound to satisfy even the pickiest of guests. Acoustic Hotel and Spa's Eclipse Sky Bar is a local attraction in and of itself; it's widely regarded as the best place to enjoy a Hanoi sunset along with a delicious spirit or cocktail.
The rates at Acoustic Hotel and Spa start at $50 a night during low season.