Whether it's the Belgium waffles, the quaint, medieval cities, or the delicious beer that inspires many to consider Belgium as their next travel destination, if you're reading this article, chances are you're interested in the best luxury hotels in Belgium.
Belgium is a popular European travel destination, one that offers hundreds of top-notch hotels, and choosing where to stay can get quite overwhelming. We hope our comprehensive list of hotels proves to be helpful for your next holiday.
Steigenberger Wiltcher's
Steigenberger Wiltcher's, one of the best and oldest luxury hotels in Belgium, is situated on Avenue Louise Shopping Street, right in the heart of Brussels. Such an ideal location allows you to have the perfect balance between shopping and sightseeing. Avenue Louise is home to a plethora of luxury stores, like Michel Kors, Louis Vuitton, and Wolford. If shopping is not your priority, there are many sightseeing spots waiting to be explored in the area, like the Grand Palace, the European Union government, and the Horta Museum.
Check Availability
A palatial and lavish style adorns both the interior and the exterior of the hotel. The rooms and suites are sleek and minimalistic, designed in a contemporary style. Some of the suites spread over two floors – a combination that allows you to have designated living and bedroom areas. The Royal Suite is the crème de la crème of Steigenberger Wiltcher's accommodation – the 320 square meter suite is furnished with a grand fireplace, an office, a marble bathroom with a steam shower, and a whopping list of modern amenities and services, including butler service.
Guests have access to the neighboring Aspria Spa which contains a swimming pool, a sauna room, and a small yet practical fitness center. The hotel's prize-winning Loui Bar and Restaurant is the ideal place to unwind after a long day of exploring. The cuisine includes classic dishes with a local twist, while the handcrafted cocktails are tantalizing.
Prices at Steigenberger Wiltcher's start from $240 per night.
Hotel Rocco Forte Hotel Amigo
Part of the prestigious Leading Hotels of the World group, Hotel Rocco Forte Hotel Amigo has a central location near the Magritte Museum, the Town Hall, and the Grand Palace. The picturesque St. Michael and St. Gudula cathedrals are a short 10-minute walk away from the hotel.
Check Availability
Hotel Rocco Forte Hotel Amigo offers 154 rooms and 19 suites to choose from, the design of which incorporates many Belgian touches. It's apparent that a lot of thought has been put into the creative touches of the hotel, judging by their exquisite art collection that includes local legends like Goossens and Broodthaers, as well as the original Magritte lithographs.
Fusing a homely feel with luxurious furnishings, the rooms and suites include a minibar with Galler chocolates and healthy snacks, a flat-screen TV, and a marble bathroom with complimentary Forte Organics products.
Hotel Rocco Forte Hotel Amigo boasts a well-equipped fitness center, an on-site restaurant, and a lively bar. Ristorante Bocconi puts the fine in fine dining – here you can savor authentic Italian cuisine in a stylish setting. The artistic and glamorous Bar A welcomes guests throughout the day, whether it's for afternoon tea or a masterfully crafted cocktail.
The rates at Hotel Rocco Forte Hotel Amigo for a standard room start at $330 a night.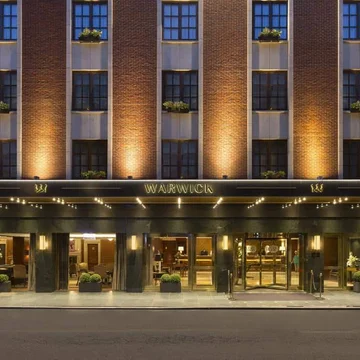 Warwick Brussels – Grand Palace
Spectacular service, a splendid location, and a long-standing tradition coalesce into Warwick Brussels – Grand Palace – a five-star hotel located in the heart of Brussels. In close proximity to the hotel, you will find the historic Antique District of Le Sablon, the Manneken Pis, and, of course, the Grand Palace.
Check Availability
The 267 rooms at Warwick Brussels – Grand Palace are designed in a muted color palette in conjunction with ligneous furnishings that give the rooms warmth and an inviting atmosphere. The style fuses together tradition and modernity, yet the amenities are completely modern: a flat-screen TV, a tea and coffee maker, and air-conditioning are only a few of the amenities found in each room. The en-suite marble bathrooms are appointed with deluxe spa products and a separate shower and bath area.
Warwick Brussels – Grand Palace's on-site fitness center, apart from having an exercise room that has both free weights and cardio equipment, also includes a sauna. The hotel offers a variety of services, including concierge service and massages.
When it comes to dining, Chutney's Restaurant is an outstanding choice of restaurant, serving authentic and local cuisine, and the best fries in Brussels, by their own admission. The Warwick Bubble Bar is as fun as it sounds, where you can enjoy a wide selection of B