South America's melting pot of culture and history, Brazil is a tourist location like no other. Whether you're traveling for the Carnival in Rio de Janeiro, the stunning beaches, or just to explore this country's vibrant atmosphere, you can be sure that your stay in Brazil will be a one-of-a-kind experience. And why not explore this exciting country from the comfort of a luxury accommodation? Stay tuned, in this article we've listed the best luxury hotels in Brazil that guarantee comfort and relaxation.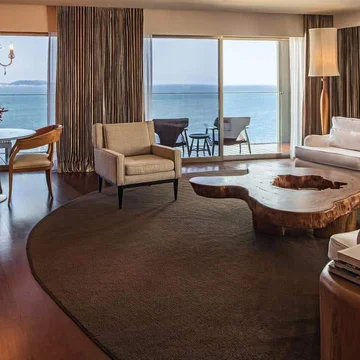 Hotel Fasano
Hotel Fasano Rio de Janeiro is situated in the vibrant area of Zona Sul. The resort is just minutes away from the most beautiful beaches in Brazil – Arpoador and Ipanema. Take a stroll down the area and you'll discover some of the best bars and restaurants in town as well as the most attractive properties on the continent. General Osorio Metro Station is just 5 minutes away.
Check Availability
The interiors pay homage to the golden age of bossa nova and were designed by the renowned designer Philippe Starck. Fasano was the designer's first complete project in Brazil and he has managed to create some of the most stunning hotel interiors in this beautiful country. The hotel's atmosphere is lively and vibrant with distinctive Brasilian materials like Ipe flooring and piquia tree stump which perfectly blend with Grecian marble, Chinese onyx, and 19th-century Argentinean brick.
The rooms are spacious and elegant with Sergio Rodrigues armchairs, soft furnishings, and Starckian ear-shaped mirrors. Balconies feature some impressive views across Ipanema beach up to the Dois Irmaos Mountains.
As you might suspect, the hotel's rooftop pool features some impressive views over Corcovado. The service is also top-notch and guests can enjoy some exotic cocktails and fresh-squeezed juices at any time. At Fasano Al Mare, the Mediterranean fare is served in an elegant setting with crystal chandeliers and vintage Scandinavian tables.
Double rooms start at $540.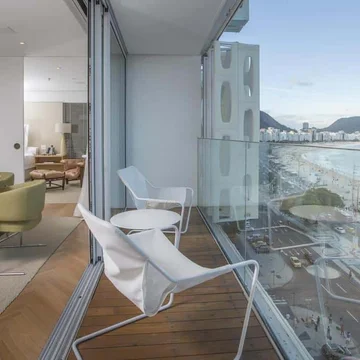 Hotel Emiliano
Hotel Emiliano is situated at the heart of Jardins (Gardens neighborhood) at the famous Rua Oscar Freire street. The area has a vibrant atmosphere with numerous shops, art galleries, upscale restaurants, cozy cafes, and famous nightclubs. Hotel Emiliano is just two kilometers away from Rio de Janeiro's two financial center's Paulista Avenue and Faria Lima Avenue.
Check Availability
Guests can choose between Deluxe King Rooms and Executive Suites. All rooms at the hotel feature sophisticated design with Charles Eames armchairs, Italian leather sofas, and soft furnishings. King-size beds feature Hungarian goose down pillows and are fashioned with Egyptian cotton sheets. The bathrooms are equally elegant with Carrara marble, a Japanese toilet, and a pressure massage shower. Standard amenities include a flat TV screen, DVD player, digital surround sound home theater, two-drawer minibar, coffee and tea making facilities, air conditioning, and high-speed Wi-fi. Located in the penthouse, the suites feature massive windows that create an airy atmosphere and give way to some sweeping views.
If you want to unwind after a long day of sightseeing, head over to the lavish spa which prides on being an urban refuge for its guests. Here, talented therapists provide travelers with a wide range of massages such as shiatsu, lymphatic drainage, reflexology, and aromatic massages.
Contemporary Italian cuisine is served at the Emiliano restaurant; a sophisticated setting set against the backdrop of a vertical garden and filled with natural light.
Deluxe king rooms start at $470.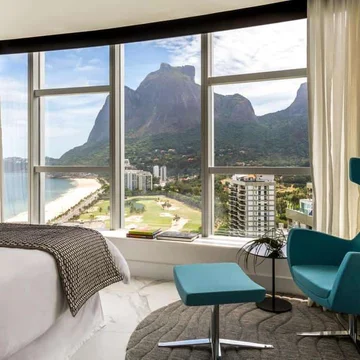 Gran Meliá Nacional
Gran Melia Nacional Rio de Janeiro is situated directly on Sao Conrado beach, which is considered to be one of the most attractive stretches of sand in the whole city. The views this hotel offers are stunning with Dois Irmaos in the background and the picking towing slopes of Tijuca National Park. The Ipanema and Copacabana beaches are a 15 minutes ride away, while Rio de Janeiro's city center is 30 minutes away.
Check Availability
The hotel's property was built by the Brasilian star architect Oscar Niemeyer and the hotel, known as Hotel Nacional at the time, was quite the hotspot in the 1970s with a renowned guest list featuring Liza Minelli, James Brown, and BB King. Decades ago the renowned Spanish chain Melia Hotels has breathed a new life in this old icon and the hotel has re-emerged as one of the most glorious hotels in Sao Conrado.
Niemayer's towering beauty today has 413 spacious rooms equipped with the latest in luxury accommodation. Interiors are tastefully decorated with wooden furniture, delicate lighting, and soft furnishings. King-size beds are comfortable with firm mattresses and Egyptian cotton sheets. Be sure to book a room on the northern side so you can have some spectacular views over Corcovado, the mountains, and the ocean right from your bed.
The hotel's renowned restaurant boasts an enviable reput